Fenton has no regrets about turning down Kennelly
February 14, 2020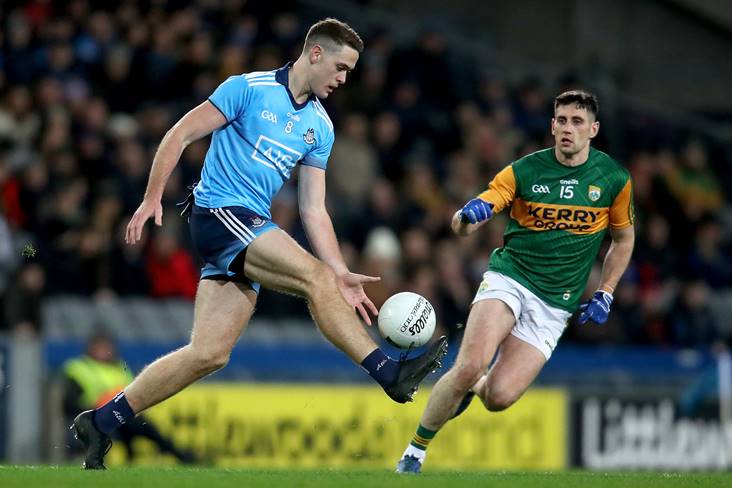 Dublin's Brian Fenton and Paul Geaney of Kerry. ©INPHO/Bryan Keane.
Brian Fenton says he doesn't regret rejecting an offer from Tadhg Kennelly to attend AFL trials in 2015.
The Raheny midfielder, who was in his first year on the Dublin senior football panel at the time, has since won five All-Ireland SFC medals and has yet to lose a championship game.
"I got a call once from Tadhg Kennelly when I was in my first year with Dublin," Fenton told Off The Ball at the annoucement of Mitsubishi Motors' official vehicle partnership with the Dubs.
"I was 22 and the trials were on at the same time as the Dublin holiday that year. We went on holiday in December after winning the All-Ireland.
"They just clashed and I never heard from Tadhg again. I haven't regretted staying, certainly not."
While playing sport professionally is something that appealed to Fenton, he admits he was never a big fan of Aussie Rules.
"When you're a kid, you see the highlight videos – the unbelievable catches. You see the boys out there now on their highlight videos, the likes of Mark O'Connor. I've watched a few games and the ball leads to it being scrappy," he continued.
"I look at Gaelic football and I get a bit more juice out of that. I never found myself watching games or following it or anything.
"The lifestyle of a professional athlete is obviously very attractive when we're training borderline professional. It's always tempting. I can see why lads go to live that life and see what it's all about.
"But at the same time I'm very lucky to play in this generation with Dublin and I wouldn't change anything for the world."
The Allianz Hurling League returns this weekend, make sure you join the hoganstand.com match tracker for live scores from the third round of games.
Most Read Stories