Antrim star McManus helped to save man's life before hitting 1-15 in club game
August 06, 2022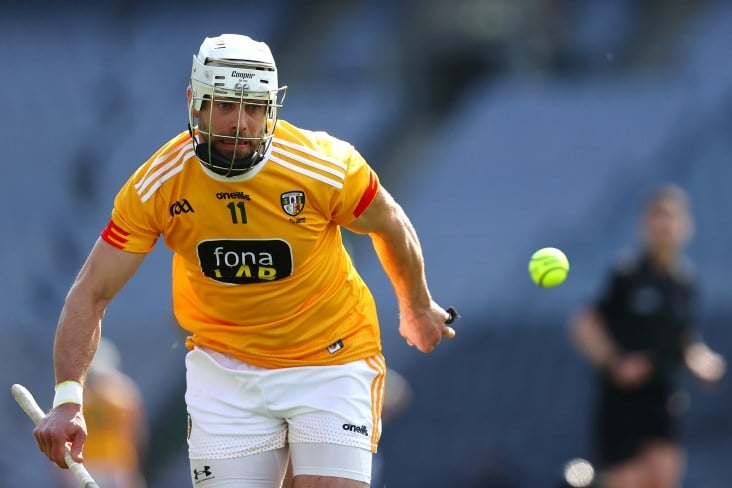 Antrim and Cushendall star Neil McManus ©INPHO/Bryan Keane
Antrim hurling star Neil McManus had an eventful day on Friday to the least.
The Cushendall attacker scored 1-15 for his club in their senior hurling championship clash against Naomh Eanna yesterday evening, helping cement the Ruairi Ógs' first win of the campaign.
However, the real drama came earlier that same morning when McManus's routine commute to Belfast was disrupted after he'd noticed a man that had taken ill. The man had in fact suffered a heart attack in his car and McManus assisted in resuscitating him.
Fortunately, the man was alright thanks in no small part to the efforts of McManus and a woman named Emma Dillon, as the Saffrons' ace explained after Cushendall's 2-30 to 0-7 victory yesterday.
"Somebody was on their way back to Belfast - or Glengormley, I think they were from. They unfortunately had a heart attack in the car on their way home and were very lucky that there was a defibrillator in the shop nearby. A lady arrived by the name of Emma Dillon who's well equipped with CPR knowledge," he said.
"We spent a few minutes with him getting the man round and, thankfully, the ambulance crew were there very quickly on hand. That was a different morning than the normal commute!
"I've been very lucky...my father had a heart attack on the golf club at home, in time for us to ring for the emergency services. A local man called Joe Burns was one of the first responders and was at the house very quickly, and thankfully he brought him round that evening. Lucky to be on hand today myself, along with Emma."
Most Read Stories