'Start the conversation' - Ulster GAA partner with PHA and Samaritans in Northern Ireland
November 07, 2019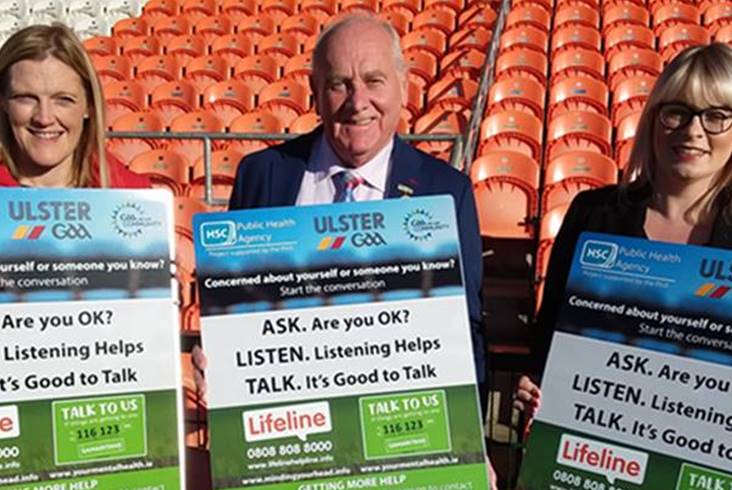 Promoting pitch-side signage for GAA clubs is (from L to R): Laura Taylor (Public Health Agency), Oliver Galligan (Ulster GAA President), and Julie Aiken (Samaritans)
Ulster GAA in partnership with the Public Health Agency and Samaritans are reminding us of the importance of talking about our mental health through the provision of signage for GAA clubs. The idea of the signage is that they are displayed in a prominent area within the club grounds, preferably facing into a spectator area.
The signs remind us of the 3 simple steps in having a conversation about mental health:
Ask – Are you OK?
Listen – Listening Helps
Talk – It's Good to Talk
By normalising the conversation about mental health, it is hoped people will feel more willing to speak-out when they need help, and also to speak-out sooner so that help can be sought before things become more serious.
By displaying the signs for all to see it means that we are all aware of what to do, and are not afraid to start the conversation when we are concerned about ourselves or someone we know.
Fiona Teague from PHA said:
"We are pleased to be part of this important partnership with the GAA and Samaritans. The message is simple, look out for your friends and family who may be in distress and ask them, 'are you ok?'
"We encourage anyone who needs support to reach out and ask. It could be just talking to a friend or family member or it might be contacting local support services. Either way, it is important to emphasise help is there."
Julie Aiken, Regional Manager for Samaritans in Northern Ireland said:
"Samaritans partnership with Ulster GAA is one of the most important projects we have. The relationships between GAA clubs and our branches ensure the message of 'Talk to Us' is highlighted in the community and encourages people to talk about what affects them."
There is one sign for each GAA club and most counties have already distributed these.
If your club has yet to receive their sign please contact their County HWC Chairperson, or Maura McMenamin at Ulster GAA.
Most Read Stories