McNally: New rules to counter cynical play puts onus on players and coaches
March 03, 2021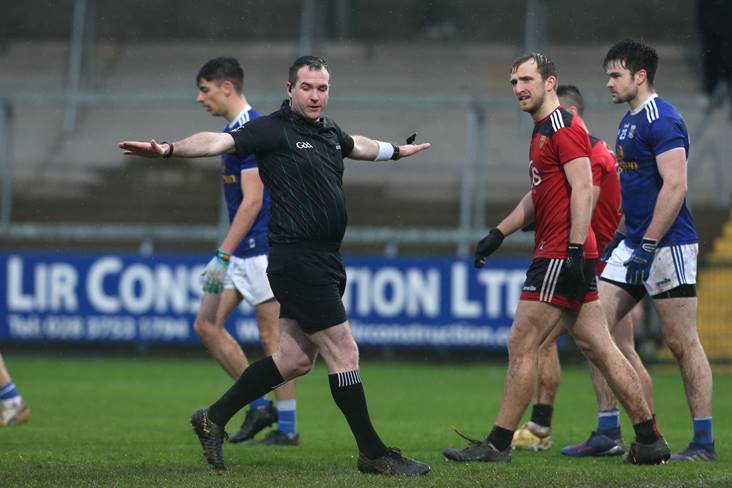 Referee Martin McNally awards a penalty to Cavan against Down. ©INPHO/Matt Mackey.
Martin McNally says the introduction of the new rules to counter cynical play "raises the standards" required of players and coaches but the "referee's role doesn't change".
In football and hurling, a penalty will be awarded for a cynical foul inside the 20-metre line or the 'D' when a goal scoring opportunity has been prevented. The offending player then has to sit in the sin-bin for 10 minutes.
McNally, a member of the inter-county football referees panel, gave his expert view to Sky Sports on the new rules passed at GAA Congress last Saturday.
"What it does is it raises the standards of what players have been doing, it makes coaches think a little bit differently in how they coach their players," the Monaghan native states.
"And at the end of the day, the referee's role doesn't change. He still has to referee the game to the rules that he has to work with. So that aspect of it won't change.
"Will we have different rules to implement? Yes. Will we have different things to consider and make sure we're mindful of? Yes. But referees in general have had a history of adapting to rule changes.
"In a nutshell, the onus will be on the players and the coaches in how they minimise the risk of giving away a key game decision in front of the scoring space."
Most Read Stories