GAA lockdown measures "too draconian"
June 04, 2020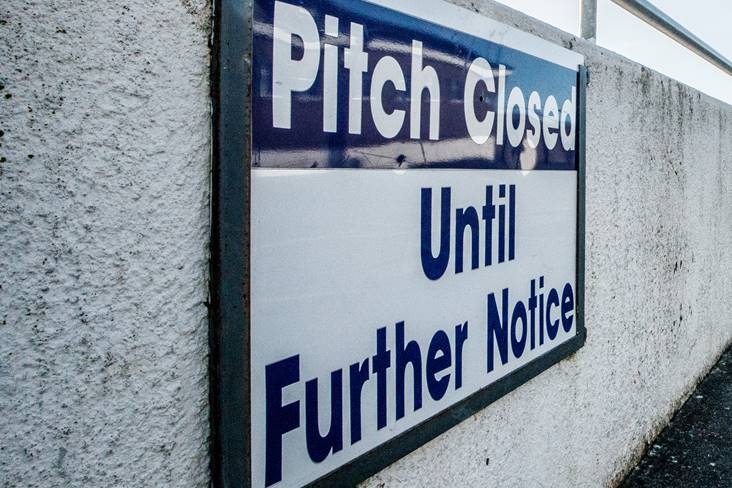 GAA pitches closed during Covid-19. ©INPHO/James Crombie.
A Laois GAA club chairman has hit out at the Association over the prolonged closure of all grounds to the general public, saying its lockdown measures are "too draconian."
Designated walkways at GAA club venues across the country are expected to re-open from next Monday 8 June as part of Phase Two of the Government's roadmap on easing Covid-19 restrictions.
In an open letter to Laois GAA and the wider Association, John Kelly of Park-Ratheniska said the measures currently being taken in the national GAA 'lock out' "fails the people that we pride ourselves in caring for."
Park-Ratheniska GAA chairman John Kelly wrote in an open letter published on www.parkratheniskagaa.com:
COVID19 has obviously had a huge impact on all our lives and I am very concerned regarding the impact on people in general and in this case GAA people and clubs. As we know the GAA is rooted in communities across Ireland and GAA people have been doing their best to help in any way possible in their local areas. However, regretfully, I feel in other ways, the GAA is not helping enough.
The national GAA 'lock out' closing gates of all GAA clubs across the country is too draconian in my view and fails the people that we pride ourselves in caring for. It fails in a number of ways:
1. The GAA is currently not functioning as a result. Interaction, young and old, interest in our sport is paused and connection with the community waning.
2. Physical Wellbeing: GAA and sport is about exercising, testing yourself and staying physically fit. The closing of clubs sends out the message this isn't important currently.
3. Mental Wellbeing: It's obvious the national COVID19 lockdown is having a huge impact on mental health. For the vulnerable, mentally fragile at this time, locking the gates fails these members. I think of the quiet fella that just loves to smack the Sliotar off the hurling wall on his own and let it all out. Or the father that can only get some life from his son/daughter by going to the pitch to kick a few balls. I could go on and on.
4. Safety: Referring back to point two, physical exercise. The 'lock out' has resulted in new road exercise. In my case, I have 3 kids and to get them to do any exercise we take to the local roads on the bikes. Trying to keep this fresh within 5km, using different routes if possible is tricky. I see many, many other locals doing similar things. While this is good, it's now silage season and the roads can be dangerous places. Ending the 'lock out' will allow families to return to off road activity and reduce the road safety issues.
5. The elderly. I can't imagine the isolation of not meeting anyone for a full day or a number of days. Here I think of the local bachelor/widower that loves to drive into the club, park on the grass bank and watch any game that's on or training session. He might make it as far as lying against the pitch side fence. I noticed two such elderly local members 'hanging' in their cars at the statue of Mary in the village. We need to support these people better.
6. Participation: I would have a great fear that kids/adult players who are lukewarm about sport or parents who are lukewarm about driving their kids everywhere will get out of the habit of the GAA and sport in general. The loss to the Association may only felt in the coming years, not just 2020. The loss to the individuals and society might be much greater in terms of a lack of sport in people's lives. I won't even get into girls participation in sport. I have two girls and I would worry about their interest level to return to GAA. The GAA has approx. 2,200 clubs in Ireland. If each club averages 8 teams across all ages. If each team in every club was to lose 3 players in 2020. That's over 50,000 players lost! If like in many clubs those 3 players make numbers at for example U15 too tight to make a minor team next year, the club may lose a team. You get my point, which I don't believe is too far fetched
7. Financial: Not the main concern of my letter but a huge area also.
I could go on. I see golf clubs now reopened and that is good. However, I can see the odd occasion on every round where players are rooting in the trees for a ball and social distancing is compromised, or on the green by the flag. None of this will be perfect, and the GAA should not expect to be either.
People are showing compliance out on the public road outside the grounds, I have no reason to doubt it won't be the same inside. There will be some exceptions, some urban clubs will open slower/differently, some members in every club will stay away for a bit longer due to personal/family health situations. But let these be understood exceptions.
I am not calling for matches to return at this time, not full time training, just to open again to our members and community. Let the walkers return, let the Kelly's puck around in one goal, the Baileys kick around at the other goals. Let the local bachelor sit on the grass bank and look at what's going on, even if that is very little. The GAA need to step up now, end the 'lock out' and open our arms once again to our communities.
Le mise,
John Kelly
Chairman Park Ratheniska GAA
Most Read Stories