Maggie Ryan is Kinnitty Camogie Club Volunteer of the Year
November 21, 2022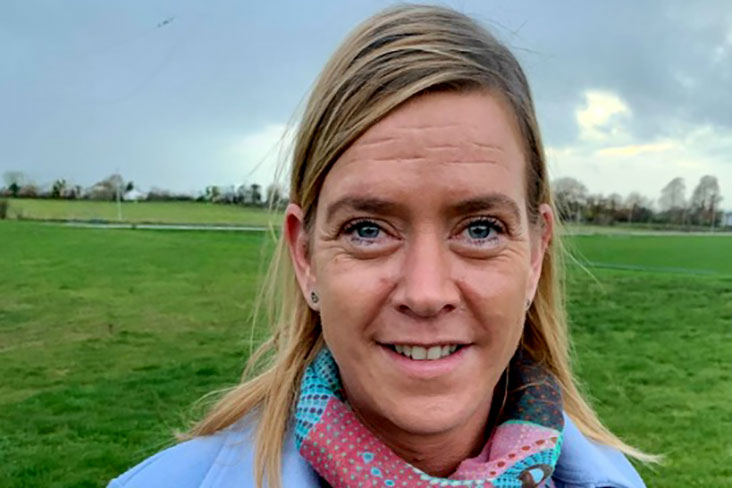 Kinnitty Camogie Club's Volunteer of the Year, Maggie Ryan
Annual General Meeting
Thank you to everyone that attended our Annual General Meeting on Sunday afternoon. The meeting began with Chairperson, Lisa Dooley thanking everyone for their work throughout the year for the club. She also thanked all our sponsors and remembered Rodge Deegan and Danny Robinson who had recently passed away.
During the meeting officers for 2023 were elected as follows:
Chairperson, Lisa Dooley
Vice Chairperson, Sean Mortimer
Secretary, Breed O'Brien
Assistant Secretary, Siobhan Bergin
Treasurer/Registrar, Raisa Scully
Assistant Treasurer/Registrar, Eva Mortimer
PRO, Alan Harris
County Board Delegates, Denis Carroll and Ann Sheppard
Club Volunteer of the Year
Our Volunteer of the Year for 2022, and for the second year in a row, is Maggie Ryan.
Maggie was nominated as our Volunteer of the Year in 2021 and while the number of roles she held in the club this year have reduced we can safely say that her commitment, dedication, input and time volunteered have remained the same.
While she was one of the coaches for our Under 8s in 2021, Maggie informed the club she would not be able to do this in 2022. Despite this however, most evenings when training was held for our under aged teams Maggie would still be seen at the pitch to make sure store rooms were open, coaches had the necessary equipment and if any coach was unable to make training then she would step in.
In the majority of cases, coaches with under age teams tend to be parents or family members of players and therefore have a vested interest in the team, however this is not the case with Maggie. She is passionate about camogie and attends training sessions purely for the love of the sport and the club. Given that she is also a coach and selector of our Minor and Intermediate teams, it means Maggie can be found at the pitch most evenings during the week.
In addition, on match day, regardless of whether the match is home or away, Maggie will still be there to make sure the coach has the team sheet to fill in to submit to the referee and also to support and encouraging our players.
If other coaches need training equipment and sliotars, they will go to Maggie as their "go to person", and while some items can be purchased online or in larger stores, Maggie is passionate about buying the items locally and giving back to our village.
When she is not at the pitch she busy arranging matches and blitzes for all our teams, liaising with the GAA club regarding the availability of pitches and arranging referees which all can be incredibly time consuming.
In October of this year we held a Race Night which is the club's biggest fundraiser for a number of years and again, Maggie was involved in this and played her part in ensuring sufficient sponsors and donations of prizes were brought in for what turned out to be a very successful fundraiser.
To summarise all of the above, all GAA and Camogie clubs are run by volunteers who give freely of their time but in Maggie's case there is rarely a day of the week when she is not at the pitch taking care of some task or at training or a blitz/match. She is fantastic volunteer for our club and we would really be lost without her. We are proud and delighted to announce that our Volunteer of the Year for 2022 is Maggie Ryan.
Thank you Maggie for all you do for our club!
Most Read Stories