Loughnane rips into 'gutless' Galway
July 04, 2016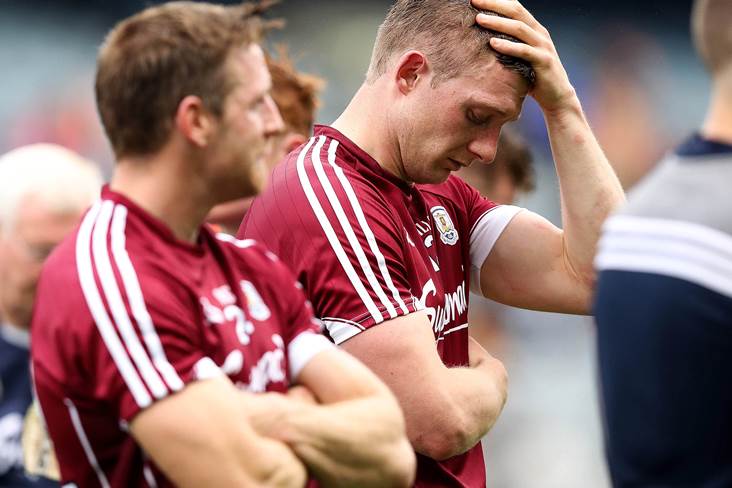 Galway players dejected after the Leinster SHC final defeat to Kilkenny at Croke Park.
©INPHO/Ryan Byrne.
Ger Loughnane has accused Galway's hurlers of having 'no guts whatsoever' in the wake of their latest defeat to Kilkenny.
Loughane has little sympathy for the Tribesmen who ousted Anthony Cunningham as manager just weeks after guiding them to last year's All-Ireland final, and tears into them in his Irish Daily Star column today:
"After the stance they took against Anthony Cunningham, this was the day when Galway had to stand up and be counted," writes the Feakle man, who managed Galway between 2006 and 2008.
"Otherwise, they'd rightly be regarded as a laughing stock. This defeat showed they are made of absolutely nothing. You can forget about this Galway team - they have no guts whatsoever!
"Galway are always looking for a crutch. There's always someone or something to blame. The manager, the trainer, the physio, the length of the grass on the training pitch, the weather...
"After pushing Cunningham out the door, the crutch was kicked away from the Galway players. they had to stand up for themselves. No-one would listen if they played the blame game again.
"Galway had a very aggressive manager on the sideline in Cunningham who was prepared to take on Brian Cody. Now they have a manager who reminds me of the Dermot Morgan character 'Fr Trendy' from RTE in the 1980s.
"Micheal Donoghue comes across as an amiable curate coming into a new parish - and they're expecting to win with him? Compare Donoghue's body language on the sideline with that of Cody. You don't need to be a genius to work out who's king of the jungle."
Loughnane added: "If people only knew the inside story of how the coup against Cunningham was organised... it was a farce from beginning to end.
"The day came when the Galway mutineers had to stand up. What happened? The usual Galway story. They collapsed."
Most Read Stories