NFL 2 final: Armagh claim the spoils
April 25, 2010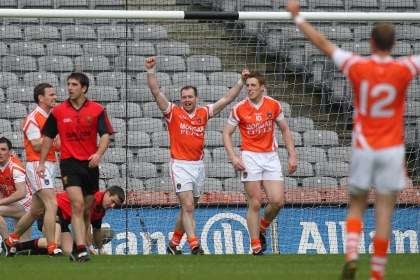 Armagh players celebrate at the final whistle at the end of the NFL Division 2 final - INPHO
Armagh kicked some wonderful points to beat neighbours Down by 0-17 to 1-12 in an exciting decider at Croke Park.
This was a tight and exciting match from start to finish but Armagh's greater experience saw them over the winning line in the fourth quarter as the rain drizzled down at GAA HQ.
Stevie McDonnell was the star of the first half and his four points - including two class strikes in injury time - had Armagh ahead by 0-8 to 0-7 at half time. Martin Clarke had notched four frees for Down, who took a while to get going after having fallen three points behind inside four minutes.
The Mourne men had gradually got on top to lead on the stroke of half-time but McDonnell stepped in with those two superb late scores to give his side a slender advantage going into the interval.
There were late changes to both teams, as the starting XVs named by the respective team bosses during the week proved to have been a tad optimistic.
Armagh started Ryan Henderson at full forward instead of Ronan Clarke, while Down boss James McCartan had to start without their captain Ambrose Rogers at midfield, with Peter Fitzpatrick coming in. Damien Rafferty also failed to shake off his injury in time to play, so Aidan Brannigan started at left corner back for the Mourne men.
Back in familiar surroundings, Steven McDonnell spun and clipped over the lead point for the Orchard County after just twelve seconds. Aaron Kernan doubled the differential with a soft free, which he converted effortlessly into the Canal End from his hands.
McDonnell's next effort dropped short and Gareth Swift almost forced the ball over the line for a goal but Brendan McVeigh in the Down goal did enough to deny him. From the resultant 45, McDonnell took his second point on four minutes - 0-3 to no score.
Benny Coulter opened the Mourne County's account in the sixth minute, with a beautiful finish. Martin Clarke sent a free wide from a tight angle and Daniel Hughes saw his attempted point blocked down by centre back Kieran McKeever. A foul on Paul McComiskey culminated in a Down free directly in front of the posts and it was a routine point for Clarke who stroked the ball between the posts from off the ground.
In the 13th minute, wing back Finian Moriarity fired over a wonderful point off the outside of his right back to restore the two-point cushion. A minute later, Clarke banged over another free off his trusty left boot after Aaron Kernan's tug at Kevin McKernan.
Fitzpatrick and McComiskey registered wides as Down sought the equalising score - the latter effort from the No.13 looked like it may in fact have dissected the posts but the umpire waved it wide.
At the end of the first quarter, Swift completed a patient Armagh build-up with a great point from distance, slotting the ball high and handsome without a second's hesitation. Charlie Vernon sent his shot wide and Clarke drilled over his third free from the ground after Andy Mallon was penalised for a shoulder on James Colgan.
The Down No.6 sustained a nasty cut in that challenge and was temporarily replaced by blood substitute Kevin Duffen. Armagh introduced Malachy Mackin as a blood sub at wing forward for Swift and McDonnell sent a low shot inches outside the post off his left foot when an Orchard County goal looked likely.
John Clarke was off target for Down and McDonnell was again the architect before wing back Paul Duffy added the next Armagh point in the 28th minute. Clarke replied with a routine free following a foul on Coulter, who may well have been in with a goal chance had he not slipped at a vital moment.
Henderson had a wide at the end of the next industrious Armagh attack with the Down defence working demonically to close down the space. In the 32nd minute, Daniel Hughes curled over the levelling point after collecting a quick sideline kick from Clarke. McComiskey immediately missed a great opportunity to put his side ahead for the first time.
Clarke stabbed a 45 wide following a good intervention from Paul Hearty between the Armagh posts and McComiskey popped over the lead point five seconds from the end of first-half normal time. The Mourne men had taken a foothold at midfield in the last 15 minutes of the first half but there was nothing they could do to prevent the brilliant McDonnell from booting over the equaliser after good work from the busy Henderson.
Within seconds, McDonnell boomed over his second point inside 30 seconds to give the Orchard County a 0-8 to 0-7 advantage at the break.
Coulter forced a foul out of McKeever in the second minute of the second half but McComiskey missed the shot from his hands. Three minutes after the restart, Fitzpatrick kicked a great point for the men in Red & Black to tie the scores up at 0-8 each.
Conor Garvey picked up the first yellow card of the afternoon for fouling Aaron Kernan off the ball and Mourne full back Benny McArdle also went into the book within seconds for backchat. The free was wasted but Kernan made no mistake at the second time of asking after a foul on Swift.
In the 44th minute, McDonnell doubled his side's lead at the end of another neat Armagh move: 0-10 to 0-8. On the stoke of 45 minutes, Down hit the front with the only goal of the game… Armagh full back Brendan Donaghy conceded a 45, which Martin Clarke drove goalwards from out on the right wing. Hearty seemed to be caught under the ball as Coulter outjumped everybody to fist to the net.
Down followed the goal with a double substitution - introducing Conor Laverty and Dan Gordon - as they now strived to maintain the initiative. A mistake by Armagh back Paul Duffy presented Coluter with possession in a dangerous position in the 49th minute and the trusty No.15 made no mistake: 1-9 to 0-10.
From here to the final whistle, the winners outscored their arch rivals by 0-7 to 0-3...
Paddy O'Rourke introduced Jamie Clarke and Stephen Forker, and Swift assumed the gaultlet when he floated over a superb point in the 51st minute to close the gap to just one. McDonnell tipped over a free from the hands off his right foot to tie it up at the start of the final quarter, 1-9 to 0-12.
Down midfielder Kalum King received a yellow card for a late tackle on Moriarity; McKeever blocked down a shot from Clarke; and McDonnell saw his shot go inches wide after he had fended off McCartan and ran half the length of the pitch.
Clarke's 50-metre free restored Down's lead and Colgan's left-footed shot flew badly wide. The intensity was stepped up with the full-time whistle getting closer and McDonnell and Kernan combined to place Forker, who whacked over the levelling score with eleven minutes remaining.
On the hour, Gordon seemed to have sent Down back ahead but his 'point' was ruled out after he was deemed to have picked the ball directly off the ground. Clarke and Moriarity both saw yellow for an off-the-ball tussle and Armagh went back in front when Kernan tapped a free over from 20 metres following a foul on raiding sub Mackin - 0-14 to 1-10 with eight minutes left.
Wing back Conor Garvey landed an outrageous equalising point with his left foot on 64 minutes but Mackin replied with a wonderful left-footed effort at the other end. Hearty caught Clarke's free beneath his crossbar to relieve the pressure on his defence and Mackin fisted a 16th Armagh point after being placed by fellow replacement Jamie Clarke.
Down sub Conor Maginn picked up a yellow card and Kernan stroked over another point from a free in the final minute to stretch the gap to three. With Down needing a goal, McKeever took a yellow card for a foul on Coulter and King drove a shot high over the bar in the first of two added minutes.
Three minutes into added time, Dan McCartan was shown a straight red card from stupidly walking on Aaron Kernan's chest and there was one more late scare for the winners and a slim penalty appeal before the final whistle signalled victory to the Orchard County.
Armagh: Paul Hearty; Andy Mallon, Brendan Donaghy, Barry Shannon; Paul Duffy (0-1), Kieran McKeever, Finian Moriarty (0-1); James Lavery, John Toner; Charlie Vernon, Aaron Kernan (0-4), Gareth Swift (0-2); Steven McDonnell (0-6), Ryan Henderson, Brian Mallon. Subs: Jamie Clarke, Stephen Forker (0-1), Malachy Mackin (0-2).
Down: Brendan McVeigh; Daniel McCartan, Brendan McArdle, Aidan Brannigan; Kevin McKernan, James Colgan, Conor Garvey (0-1); Peter Fitzpatrick (0-1), Kalum King (0-1); Stephen Kearney, Martin Clarke (0-5), Daniel Hughes (0-1); Paul McComiskey (0-1), John Clarke, Benny Coulter (1-2). Subs: Conor Maginn, Conor Laverty, Dan Gordon, Ronan Murtagh.
Most Read Stories