Horan calls for "huge investment" in Mayo football
September 26, 2012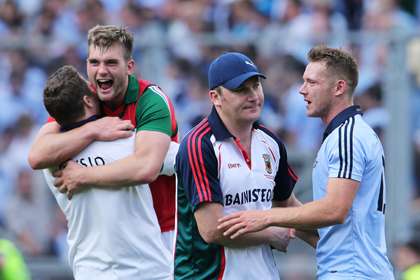 Mayo manager James Horan shakes hands with Paul Flynn of Dublin after the game while Aidan O'Se celebrates in the background ©INPHO
James Horan says Mayo will need to spend big if it is to end its All-Ireland famine.
Addressing supporters at last Sunday night's All-Ireland final banquet, the Mayo manager is quoted as saying in The Mayo News: "I think there's an important theme to take out of tonight, and for this year. For this team, and the group of players involved, it's only the start.
"As we said during the year, we got a lot of the inputs right and there's a lot we're getting right. But we've a huge amount of work to do.
"That amount of work requires resources and people pulling together. It requires county board, clubs, people on the ground, ye yourselves, to make sure that club football in Mayo, and inter-county football, gets the best set-up and the best structure that it can.
"If we want to be successful, to get Sam Maguire next year, there's a huge amount of investment needed. So it's important we don't fool ourselves.
"We made huge progress this year, and last year, but there's a lot more that needs to be done, and can be done. So, hopefully, with everyone pulling together, everyone facing the same way, this group of players staying together and improving themselves, their girlfriends and wives still giving us the same support, great things are still possible with this team."
Most Read Stories