All-Ireland SFC final: Rebels squeeze past Down
September 19, 2010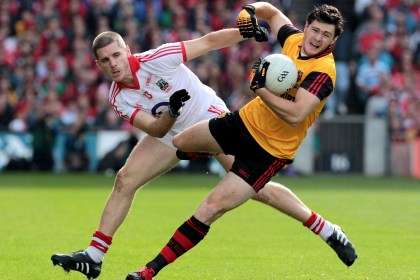 Cork's Daniel Goulding tackles Martin Clarke of Down during the All-Ireland SFC final at Croke Park - INPHO
Daniel Goulding struck nine points as Cork beat Down by 0-16 to 0-15 in an epic contest at Croke Park.
Between them, Goulding and Donnacha O'Connor contributed all but one of the Rebel County's scores as Conor Counihan's men utilised their squad to good effect to finish strongest.
James McCartan will be wondering how this one slipped away as Down looked like the better team for long periods but they had no answer to the twin threat of Cork's two most dangerous attackers.
The losers bossed the first half, while Cork failed to score from play in the opening half-hour. However, a late rally from the Rebels brought them within touching distance at the turnaround, somehow trailing by just three points, 0-5 to 0-8.
As expected, there was a late change to the Cork starting XV, with John Miskella drafted in at centre half back in place of Graham Canty. With Ambrose Rogers of course also unable to start for Down, this meant that both sides went into the 2010 All-Ireland final without their respective captains.
The sky cleared and the rain stopped just before throw-in; an enrapptured capacity crowd of 81,604 roared as the two teams - both in their away strips (yellow for Down and white for Cork) - engaged in the pre-match parade around Europe's finest stadium.
With a light breeze behind them, Cork played into the Hill 16 side in the first half and midfielder Alan O'Connor hit a disappointing wide after only ten seconds. O'Connor atoned with an excellent catch in the engine room and the Rebels came straight back into attack, only for Brendan McVeigh to make a magnificent save to deny Ciaran Sheehan a goal.
From the rebound, Sheehan flicked the ball goalwards but, with McVeigh beaten, Dan McCartan was on the goal-line to make a vital intervention. The Leesiders were awarded a free from their next attack and Goulding opened the scoring from in front of the posts. Down replied with a Benny Coulter wide.
In the fifth minute, Danny Hughes got Down's opening score from close to the 45 straight in front of the posts, an excellent point with Marty Clarke prominent. At the other end, Sheehan was unfortunate as the damp sod took the ball away from him as he attempted to hop it. Bearing down on goal, perhaps the Cork No.10 should have stuck to foot solos…
Paul McComiskey and Coulter added to Down's wides tally before the former put the Ulster county ahead on nine minutes, benefiting from a John Clarke knockdown. But Hughes registered a fourth Down wide when he should have scored; Paul Kerrigan was even further off target at the other end of the pitch.
Kevin Kernan's foul on Paul Kerrigan culminated in another pointed Goulding free from the deck in the 13th minute: 0-2 each. In the 14th minute, Marty Clarke drilled the ball between the posts from a free that had been moved closer to goal by the Meath official.
When his older brother John Clarke came out the field and gathered possession before thumping between the posts again, Down led by 0-4 to 0-2. And there were three points between the sides when Marty Clarke knocked over his second point from another routine placed ball.
The Mourne County's great start continued when McComiskey got on the end of a fantastic move to pop between the posts in the 18th minute: 0-6 to 0-2. Down's defence was dealing competently with everything Cork could throw at them and Pearse O'Neill sent a shot wide under pressure as the four-point gap remained.
The southerners were all over the place and Miskella had a terrible wide before Hughes - who was in acres of space as he surveyed his options - fisted his second point in the 27th minute: 0-7 to 0-2. Alan Quirke beat Coulter to a dropping ball to concede a 45, which the younger Clarke brother surprisingly dragged wide.
Donnacha O'Connor struck a free over the bar from distance in the 31st minute and Goulding finally knocked over the Rebels' first score from play mere seconds later. Cork had done precious little in the opening half hour but found themselves only three points adrift after 32 minutes, 0-7 to 0-4.
Coulter fielded majestically in front of the Cork goal, drawing a free which Marty Clarke stroked between the posts to make it double scores. In the last minute of first-half normal time, Donnacha O'Connor delivered a magnificent point from play to once more reduce the arrears to three.
McVeigh made a good save from Paul Kerrigan, who shot from an acute angle after skinning Rafferty, and Dan Gordon collected Goulding's poorly-struck effort to preserve his side's three-point cushion at the break.
Conor Counihan introduced Nicholas Murphy at midfield for the second half and this game was still very much there for the taking. The Rebel County had scored twice from play in the opening 35 minutes and could consider themselves fortunate to be still in touch. The destination of Sam Maguire would go down to the second 35 minutes…
Murphy made an immediate impression as he winded Peter Fitzpatrick with a late tackle and Down were unlucky when McComiskey's left-footed shot came back off an upright, with the Clarke brothers again instrumental.
In the 39th minute, McComiskey collected a beautiful pass from Hughes and sent a raking shot through the uprights off his right foot. An economical score from the northern raiders. But McVeigh's foul on Sheehan presented Goulding with a simple pointed free and Cork were back within three points five minutes after the restart.
Six minutes into the second half, Cork captain Canty entered the fray for his 49th senior championship match. Cork were then wrongly awarded a free in front of the posts when Paul Kerrigan slipped and Goulding had no problems closing the gap to two: 0-7 to 0-9 after 43 minutes.
Despite bookings for Fitzpatrick and Dan Gordon - neither of whom seemed to do much wrong - Down kept their cool and Mark Poland kicked an exquisite point in the tenth minute of the second half. Brilliant defending from Michael Shields led to a third Donnacha O'Connor point. Two in it again, twelve minutes into the second half…
Cork had sparked to life and Goulding's fifth point had them back within a point on 47 minutes. Only two Rebel players had scored, but they didn't mind a bit as they match hung delicately in the balance.
In the 51st minute, 19-year-old Sheehan - the youngest player on the pitch - clipped over a lovely point to level the scores at 0-10 each. The momentum was all with the Leesiders now but a superb McKernan point restored Down's lead after good play from Marty Clarke and Poland.
When Gordon fouled O'Connor, the Cork full forward had no difficulty in tying up the scores from the resultant free. Fifteen minutes from the end, Kerrigan ran at the heart of the Down defence and booted a lovely point off his left foot to put the Rebel County in front.
Substitute Colm O'Neill struck a post but Goulding found the range from a 45 to send the reinvigorated Rebels two points ahead. The tide had turned completely in the Rebels' favour and they led by three points - 0-14 to 0-11 - after Goulding popped over his second 45 in as many minutes, the No.13's eighth point of the game.
Fitzpatrick knocked over a great Down point on 63 minutes after some tremendous play from Coulter, who shipped a couple of hefty tackles. O'Connor arced over a sensational Cork point four minutes from the end and Down replied instantly with one from substitute Ronan Murtagh.
Goulding was having a dream day and his third converted 45 extended the Rebels' lead again before Coulter got under Marty Clarke's delivery to drill a 14th Down point with a minute left.
Hughes fisted his third point from a Marty Clarke sideline ball in the first of two added minutes and the atmosphere was electric as this epic match reached its climax. Cork held on to win their first All-Ireland in 20 years and Canty collected the most coveted cup in the land.
Cork, All-Ireland SFC final: Alan Quirke; Eoghan Cadogan, Michael Shields, Ray Carey; Noel O'Leary, John Miskella, Paudie Kissane; Alan O'Connor, Aidan Walsh; Ciaran Sheehan (0-1), Pearse O'Neill, Pa Kelly, Daniel Goulding (0-9), Donnacha O'Connor (0-6), Paul Kerrigan (0-1). Subs: Nicholas Murphy, Graham Canty, Colm O'Neill, Derek Kavanagh, Fintan Goold.
Down, All-Ireland SFC final: Brendan McVeigh; Dan McCartan, Dan Gordon, Damien Rafferty; Declan Rooney, Kevin McKernan (0-1), Conor Garvey; Peter Fitzpatrick (0-1), Kalum King; Daniel Hughes (0-3), Mark Poland (0-1), Benny Coulter (0-1); Paul McComiskey (0-3), John Clarke (0-1), Martin Clarke (0-3). Subs: Conor Maginn, Ronan Murtagh (0-1), Benny McArdle, Aidan Brannigan, Conor Laverty.
Most Read Stories