Unearthing new talent Shefflin's big focus, says Tyrrell
February 03, 2023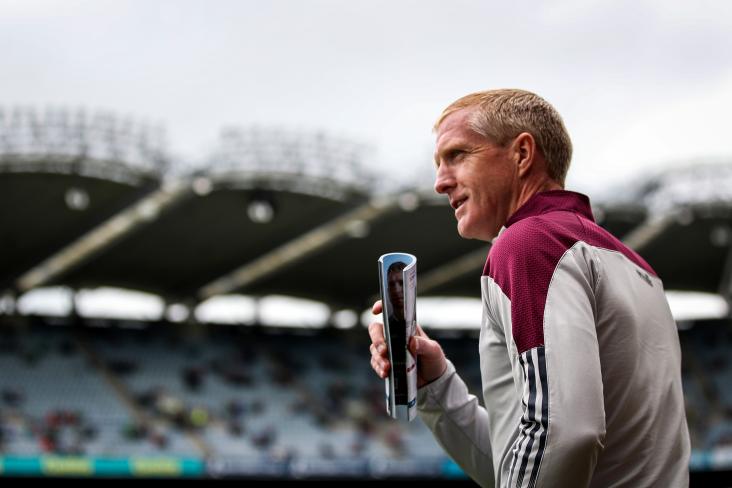 Galway manager Henry Shefflin ahead of the clash with Limerick at Croke Park ©INPHO/Evan Treacy
Kilkenny legend Jackie Tyrrell believes Galway manager Henry Shefflin is looking to develop a stronger bench to compete for honours this season.
Shefflin used 37 players throughout the Tribesmen's Walsh Cup campaign last month and he is expected to continue to experiment during the Allianz League, which starts for his team away to Wexford tomorrow evening (5pm).
Speaking on the RTE GAA podcast, Shefflin's former team mate Tyrrell says it's no surprise to see the Galway management developing its squad after last year's late All-Ireland semi-final loss to Limerick.
"Looking back on last year, the one huge learning that Henry will have taken, and if you look at the All-Ireland semi-final where they came so close to Limerick, they just lacked that punch off the bench to get them over the line," said Tyrrell.
"Limerick were able to bring guys on to finish the job off, while Galway didn't get that punch, so they will be looking to unearth new talent. Johnny Coen has stepped away and retired, so that is another option that has gone for him.
"That will be his big focus. Can he get more lads that can contribute and maybe even start, definitely coming off the bench, because that is what stood out last year, the same kick wasn't there in Galway when they needed lads to come off the bench.
"I'd say Henry knows 12 or 13 of his starting 15 already as he has a lot of stalwarts who were in really great form last year. You think of the Mannions, the Joseph Cooneys, the Daithi Burkes – I'd say he is quite comfortable with those lads and will intermittently phase those guys in.
"Henry will be one of the most experimental managers in the league. He just needs new talent that he has confidence in when they come off the bench, 'this lad could get me a point, this lad could do me a job'."
Most Read Stories