Westmeath job "too good an opportunity to pass" for Dolan
September 23, 2022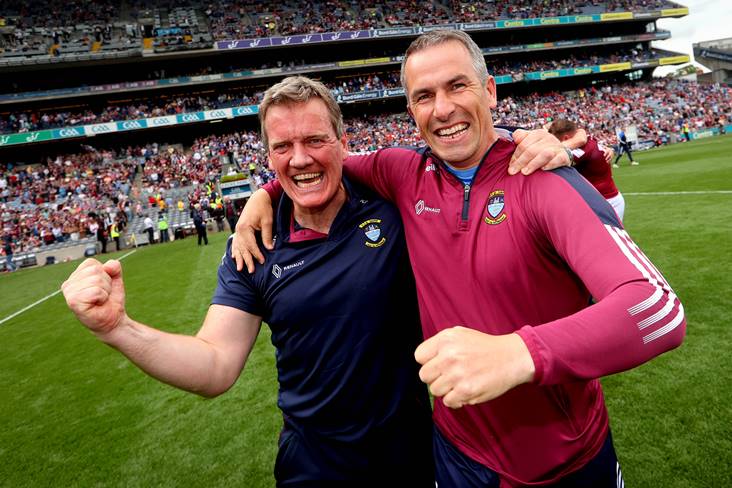 Westmeath manager Jack Cooney celebrates with selector Dessie Dolan. ©INPHO/Ryan Byrne.
New Westmeath senior football boss Dessie Dolan says the opportunity to manage his native county was simply too good to turn down.
Dolan was officially appointed as the Lake County's new supremo on Wednesday night, succeeding Jack Cooney in the role.
Cooney, whom Dolan served as a selector under, departed his post after leading Westmeath to the inaugural Tailteann Cup crown in July.
Speaking on the RTE GAA podcast yesterday, Dolan said it was an easy decision for him to take on the job and also revealed his surprise when he learned of the former manager's departure.
"Getting involved [as a sector] last year with Jack Cooney, I got on very well with the lads," said the 2004 Leinster SFC winner.
"I hadn't played inter-county since maybe 2014 and getting back involved with Westmeath, I probably realised the enjoyment and satisfaction I was getting from being involved with a team in an inter-county environment, and getting stuck into it.
"Having the good year we had with Jack and working with Jack, who was a mentor, was very enjoyable. I was as surprised as anyone when we got the news that Jack had to leave the job.
"The opportunity presented itself, the players were probably keen to have a bit of continuity, so I just stepped up to the role as a result of that. I'm kind of confident in so far as I have a lot of good people around me in Westmeath. I'm best mates with John Keane [who also served as a selector under Cooney] for a very long time and he has great coaching experience.
"The S and C guys are amazing, and the whole back-room team. That's really the reason I'm doing it... the continuity is a big factor. There's a couple of players who are maybe 30, 31, 32 - (we want to) give the another opportunity to push on and see what we can achieve with Westmeath."
Most Read Stories