All-Ireland Masters semi-final details
August 17, 2022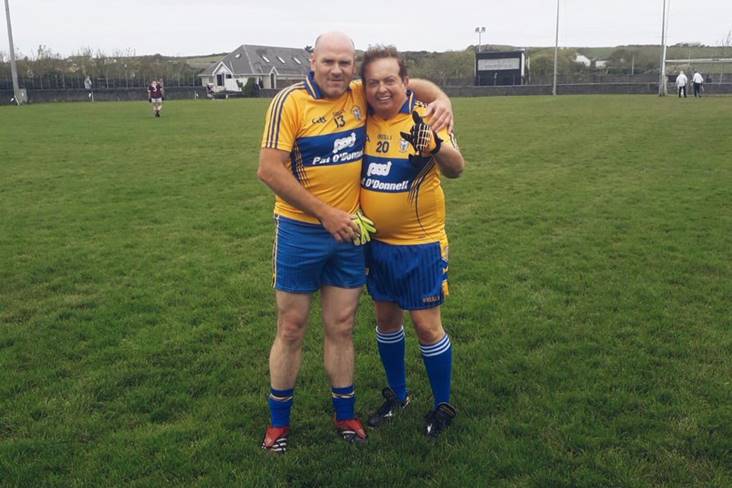 Dessie Molohan and Marty Morrissey line out for the Clare Masters. Pic via Charlene Keenan (@keenan_ck) on Twitter.
The times, dates and venues for the All-Ireland Masters (Over 40) Football Championship semi-finals have been confirmed.
Dromard in Co. Longford and Golden/Kilfeacle in Co. Tipperary will host the Dr Mick Loftus Cup semi-finals between Clare and holders Tyrone, and Dublin and Kerry this Saturday, with both games throwing in at 2pm.
Arrangements for the Plate, Shield and Challenge Cup semi-finals have also been made.
Dr Mick Loftus Semi-Finals
Clare V Tyrone
Venue: Dromard, Co. Longford.
Saturday 20/8/22 @2pm
Ref: Patrick Maguire ( Longford).
Dublin V Kerry
Venue: Golden/Kilfeacle, Co. Tipperary
Saturday 20/8/22 @2pm
Ref: Derek O Mahoney (Tipperary)
Shield Semi-Finals
Donegal V Kildare
Venue: St Aidans, Templeport, Co. Cavan
Wednesday 17/8/22 @8.15pm
Ref: Chris Mc Caffery (Cavan)
Galway V Roscommon
Venue: Clonberne Community Pitch, Co. Galway
Wednesday 17/8/22 @7.30pm
Ref: John Gillmartin (Sligo)
Plate Semi-Finals
Cavan V Waterford
Venue: Allenwood GFC, Co. Kildare
Saturday 20/8/22 @2pm
Ref: Peter Farrell (Kildare)
Mayo V Louth
Fr Manning Gaels GFC, Drumlish, Co. Longford
Saturday 20/8/22 @2pm
Ref: Ray Mc Brien (Leitrim)
Challenge Cup Semi-Finals
Antrim V Leitrim/Longford
Venue: Truagh Gaels, Co. Monaghan
Saturday 20/8/22 @2pm
Ref: Dermot Lynch (Monaghan)
Cork V London
Saturday 27/8/22 Venue to be Decided
Most Read Stories