"Their decision-making under pressure is not good"
May 20, 2022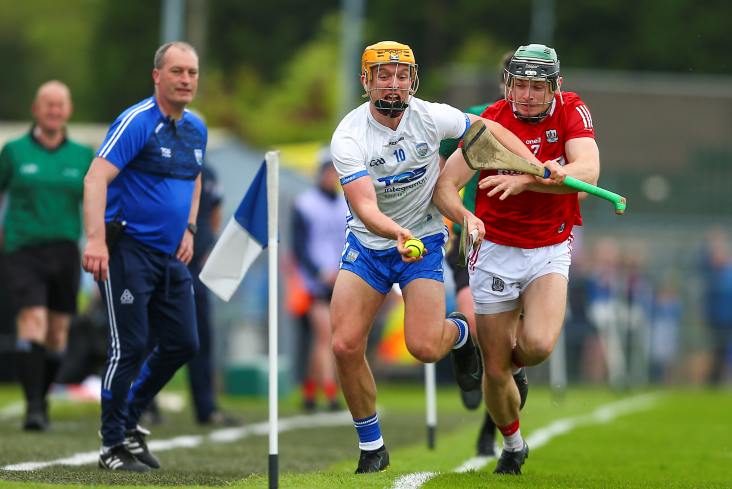 Waterford's Jack Prendergast is pushed into touch by Mark Coleman of Cork ©INPHO/Ken Sutton
Offaly legend Michael Duignan has questioned Waterford's ability to perform under pressure after last weekend's Munster senior hurling championship defeat to Cork.
Prior to the 2-22 to 1-19 loss, Waterford boss Liam Cahill described the game as the biggest game of his tenure in charge of the Deise County.
Speaking on the RTE GAA podcast, Duignan said he feels Waterford have a tendency to take the wrong option when the pressure is on.
"One thing that has concerned me, even when they're going well, is their decision-making under pressure is not good," he said.
"They take the wrong option. Even the likes of Aussie [Gleeson] going back 130 yards to take a free, or taking a line ball from 90 yards, and putting it wide.
"These are the types of things that shouldn't happen but are continually happening. Grand when things are going well...Then when the pressure comes on; there was pressure on the last day to win and it didn't happen. There's been pressure on a couple of times over the last few years, and they don't respond well to it.
"That's something maybe psychological...Liam Cahill put them under a fair bit of pressure (before the Cork game). He said it was the biggest game in his time with Waterford - they didn't respond to that.
"I thought it was really clever management. I said to myself, 'He's really putting them under the spotlight. He's not worried about what Cork bring, or what happens anywhere else, or what anybody else does in another other match. We win this match and we're going through out of Munster'.
"It didn't work and that has to be worrying. You don't know how they're going to be on Sunday mentally."
Most Read Stories