"It still pays to foul" - Gough
January 14, 2020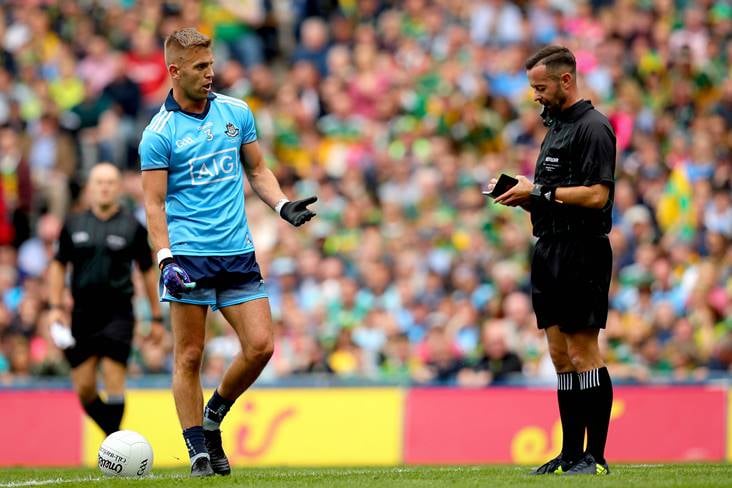 Referee David Gough with Dublin's Jonny Cooper. ©INPHO/Ryan Byrne.
David Gough believes a black card isn't strong enough punishment for a cynical foul that denies a goalscoring opportunity.
The All-Ireland football final referee feels further deterrents are need to make sure that it isn't in the offender's interest to 'take one for the team'.
"I may be the only one still banging on about this but I still have an issue with denying a team or player a scoring opportunity, particularly within the 30- or 20-metre line," the Meath official told The Irish Times. "Awarding a black card and free kick isn't adequate. The scoring opportunity should be given back; otherwise it still pays to foul.
"If you were to say that a black card within the 20-metre line results in being ordered off the field and a penalty, we're not going to see as many incidents of deliberate pull-downs, deliberate trips or body collides intended to stop scoring opportunities. We're at a stage now in intercounty football that it's 'win at all costs' – doing whatever you need to do, regardless of rules, to ensure your team wins.
"The GAA needs to counter this by saying that we equally will do anything we need to do, through the rules, to make sure that it doesn't pay to foul."
Most Read Stories