SF challenge: Neighbours meet in Elaine Tate charity match
December 02, 2019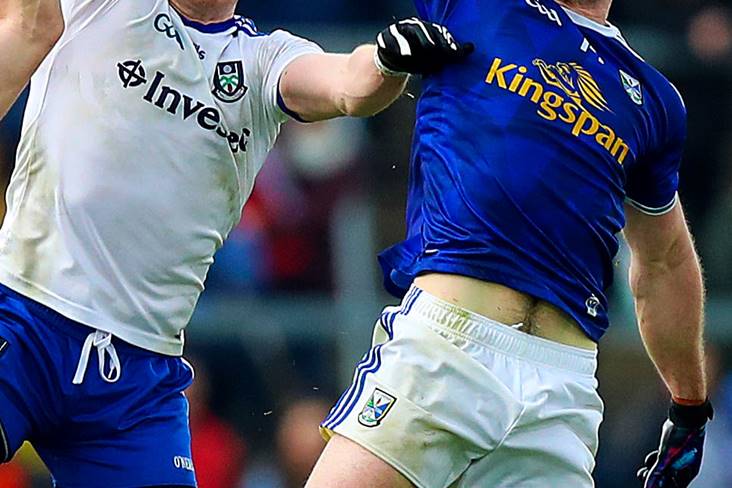 Neighbours Monaghan and Cavan met in a challenge game in Clones in support of Elaine Tate.
Monaghan 1-14
Cavan 1-11
Monaghan and Cavan had their first competitive outings in preparation for the new season when they met in a challenge game in Clones yesterday, the game part of a fundraising drive to support Elaine Tate, a young teacher and mother of three from Rockcorry, who has been left paralysed from the waist down and confined to a wheelchair, following a rare reaction to one of her treatments and the funds raised from this event and others will go towards much-needed adaptations to Elaine's home to give her more independence on her road to recovery.
Both sides fielded largely experimental teams, although there were a number of well known names and faces, Rory Beggan, Karl O'Connell, Thomas Kerr and Christopher McGuinness for Monaghan along with Niall Kearns and Barry McGinn, while Fergal McKenna, Ben Smith, Niall Clerkin and Ronan Patterson were familiar names on the Cavan line out. Monaghan led at half-time by 1-9 to 0-4, the Monaghan goal by Gary Mohan in the twenty-ninth minute. Cavan stepped up considerably in the second-half to outscore Monaghan by 1-7 to 0-5, the Cavan goal palmed to the net by Evan Fortune but they just couldn't close the gap completely in what was an entertaining contest, although the cause was of greater significance on the day.
Monaghan: R Beggan, D McArdle, C Meegan, K Loughran, S Carey, K O'Connell, P Keenan, B McBennett 0-1 (f), N Kearns, MP O'Dowd, A Woods 0-2, T Kerr 0-1, B McGinn 0-3, G Mohan 1-1 (0-1f), C McGuinness 0-3 (1f). Subs: R O'Toole for K O'Connell, J Irwin 0-2 for G Mohan, A Mulligan 0-1 for N Kearns, S Finnegan for S Carey, L Smith for P Keenan, R McAllister for A Woods, R Wylie for MP O'Dowd.
Cavan: F O'Rourke, S O'Connor, F McKenna, D McKenna, R McGahern, P Smith, J McMahon, S O'Rourke, E Fortune 1-0, P Gilcreest, R Connolly 0-5, N Clerkin 0-2, K Cosgrove 0-2, R Patterson, A Graham. Subs: B Magee 0-1 for P Gilcreest, P Mead for S O'Connor, K Donohoe 0-1 for R Connelly, K Monahan for L Molloy, D Monahan for R McGahern, R Galligan for F O'Rourke.
Referee C Brannigan (Down).
Most Read Stories