Armagh puts Jarlath Burns' name forward for GAA Presidency
September 18, 2019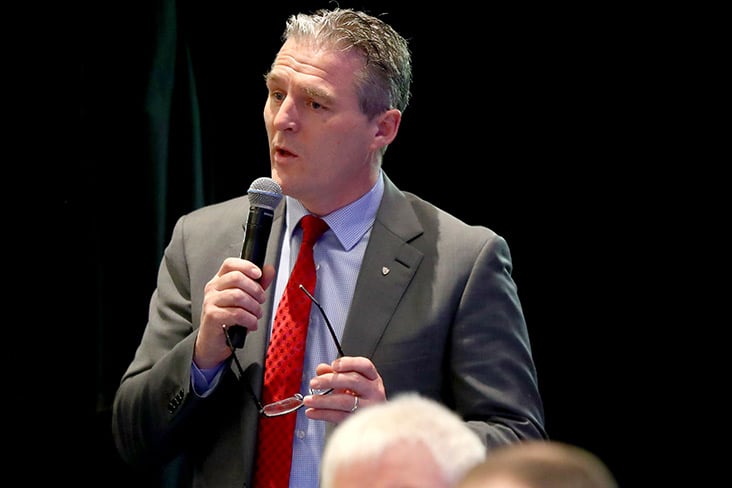 Jarlath Burns
Armagh are to nominate Jarlath Burns for the position of Uachtarán CLG at Congress in 2020.
Silverbidge Harps clubman Burns enjoyed a successful playing career at college and inter-county levels, most notably as captain of the Armagh senior footballers in 1999 that won the county's first Ulster Championship in seventeen years.
He has proved himself to be an able and innovative administrator and has accumulated wide and valuable experience in a variety of roles at club, county, provincial and national levels.
He was Chairman of his club from 2012 to 2015, and has been club Secretary since 2015. He is currently Armagh's delegate to the Ulster Council and is a member of both the Armagh and Ulster GAA Management Committees.
In addition, the former midfielder has served as Chairman of a range of national committees, including the Standing Committee on the Playing Rules and the 125th Anniversary Committee, and was a consultative member of the GAA Strategic Committee of 2000. He served on Central Council from 2000 to 2003, was the first players' representative on Ard Chomhairle and was then the Armagh delegate between 2009 and 2013. He was also on the GAA Management Committee in 2012-13.
"Jarlath has a profound knowledge of all aspects of the GAA, both at home and abroad," a statement from Armagh GAA reads.
"As administrator at all levels, he has remained true to the values which inform and enrich our Association, while never failing to challenge it where he sees that the integrity of the Association and its games are at stake. And, in an environment in which the GAA is under intense daily scrutiny and where communication skills are vital, he would be an articulate public defender and advocate of the Association and a strong voice for modern and progressive action.
"It is for these reasons that Armagh GAA proudly propose Jarlath Burns, certain in the knowledge that he will make an outstanding Uachtarán CLG."
Most Read Stories