SFC final replay preview: Dubs to deliver at second attempt
September 13, 2019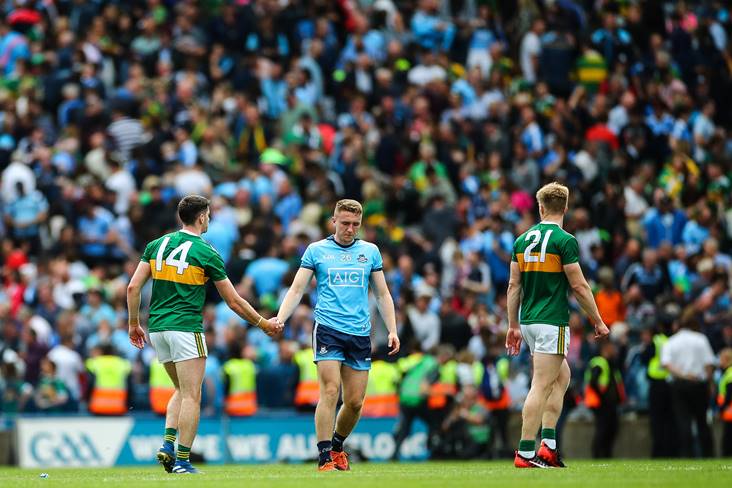 Kerry's Paul Geaney and Dublin's Paddy Small shake hands. ©INPHO/James Crombie.
Dublin and Kerry cross swords again this Saturday for the right to take home the Sam Maguire Cup. Here's our preview for the replay at Croke Park:
Saturday, September 14th
All-Ireland SFC final replay
Dublin v Kerry, Croke Park, 6pm - RTE/Sky
The staple GAA cliché tells us that the team who learns most wins the replay but just how true is that old chestnut which was, we think, first propagated by the late, great Eugene McGee?
We wonder – what is certainly true, though, is that favourites win 95 per cent of replays. In fact, in elite Gaelic football, there are very few examples of an overwhelming favourite being held to stalemate on the first day out and then being beaten in a replay.
So, if we are to adhere to that, then it seems obvious that Dublin are going to make history by winning their fifth All-Ireland SFC title in-a-row on Saturday evening. We must, though, beware the gambler's fallacy and remember that each match is a new, unique event, a thousand mad things, as Anthony Daly famously said, before somebody comes out on top.
It's easy to make quite a convincing case for both sides. First, the champions. They played for the entire second-half – including eight minutes of injury time – with 14 men and they did not hit the heights they capable of, with Paul Mannion and Ciaran Kilkenny particularly well held.
Also, notably, they took and missed a number of pot-shots which is totally unlike the smart, percentage-play Dublin that we have come to know in the last couple of seasons in particular.
Then again, it tends to be forgotten that red cards don't just exist, out there, in a vacuum. Jonny Cooper got his marching orders because he was being burned time and again by David Clifford – it wasn't like the red card was an act of God and just pure misfortune for the Dubs.
Kerry can point to their own hard luck stories. Paul Geaney was quiet and missed a penalty – criminal, in this day and age, since spot kicks have been moved forward – while boy wonder Clifford missed some chances he would normally nail.
Other opportunities also went a-begging which the Kingdom would have been expected to capitalise on. If they take them this time around, they will win – but the chances may not arise.
First things first, Kerry must stop the rampaging Jack McCaffrey. With Brian Fenton in particular completely nullified in the engine room and other contributors to the scoreboard silenced, the doctor from Clontarf prescribed the perfect tonic, coming up with 1-3 from play in a mesmerising performance.
Searching for more firepower, Gavin has recalled Bernard Brogan to the panel while rumours have abounded in recent days that Diarmuid Connolly may be handed a starting jersey.
Is that a sign of panic on the part of Dublin's normally unflappable bainisteoir? Time will tell.
Gavin's legacy and place in the pantheon of great managers is secure, regardless of tomorrow's result, but a five-in-a-row would be his crowning glory. Kerry are much better than they were given credit for and will likely get a lot more from Geaney and Steven O'Brien but the feeling is that the Dubs have survived a major scare unscathed.
The Kingdom's time is coming, fast, but tomorrow evening, what has become normal order should be restored.
Verdict: Dublin
Most Read Stories