Fitzgerald departs Royal hotseat
August 20, 2019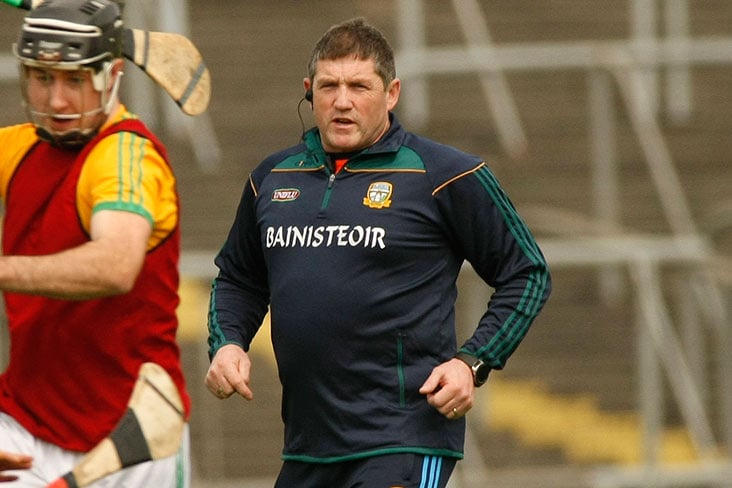 Kildalkey's Nick Fitzgerald
Meath's Christy Ring Cup winning senior hurling manager Nick Fitzgerald has stepped down.
The Royal County enjoyed a very successful 2019 season, powering to third-tier championship glory to secure their return to next year's Joe McDonagh Cup.
The Royals also consolidated their Division 2A status, so Fitzgerald's successor will have a strong platform to build from.
The Waterford native and Kildalkey clubman became Meath manager in September, 2017 and managed his adopted county in the inaugural Joe McDonagh Cup in 2018. They were relegated last summer but bounced back by winning their second Christy Ring Cup in four years.
Fitzgerald has released the following statement through Meath GAA confirming that, having completed two years at the helm, due to work and family commitments, he is unable to accept an offer to extend his term in charge:
"This morning, I informed the players of my intention to step down as the Manager of the Meath Senior Hurling Team. Having completed two years, I am unable to accept the offer from the Meath County Committee to extend my term as Manager. Finding the right balance with my business, home life, and the commitment required to manage the Meath Senior Hurling Team has been difficult as well as being thoroughly enjoyable.
"Moving forward I have a business that continues to thrive outside of Ireland and Britain as well as other parts of Europe. The build-up of the travel time involved with this continues to grow and these additional time pressures will see me out of the country more often. When you have players giving the total commitment you need to match or indeed exceed that level, and this is where I would fail in 2020 if I continued as Manager.
"Despite the time pressures I have had the pleasure of working with some amazing people on the playing front and in my backroom teams. Everybody now understands that players put their life on hold during their playing careers, but I have had the same level of commitment from the support team that consists of Kit Men, Water Carriers, Hurley Carriers, Team Administrators and Stat Detailers who worked tirelessly as volunteers for the needs of the players ensuring no stone was left unturned. The organisation for training got the same level of detail as any league or championship game which is a credit to this group of people especially Gerry McLoughlin & Paul Dunne. These people are as important as the players who take to the field.
"To the group of players, established and new, your commitment to Meath Hurling is undeniable, your desire to reach the next level is clearly obvious and I am sure it will be achieved. I wish you every success going forward and assure you that my phone is always on. To Paul Reilly, despite the pressure of his work life and four young kids his commitment for the last two years to the team and Meath Hurling is something money cannot buy. To Conor Ferguson, who in 2019 added another level of knowledge to our setup I again want to say thank you.
"I want to acknowledge the coaches who have given their knowledge and experience over the two years, it has been invaluable. This year the attention to detail was phenomenal and it ensured that every player was given the opportunity to be at their best technically. This coaching resulted in Meath winning the Christy Ring Cup for the second time. Our fitness coaches who also ensured the players were always prepped and ready again, thank you. To the medical team of physios, masseurs, and doctor who all played their part in the setup, thank you. To my work colleagues who have carried some of the burdens in the last two years, thank you.
"To the Meath County Committee who have been a great support to me over the two years, especially the County Chairperson Peter O'Halloran, Secretary Mairead Delaney, Treasurer Jim Mullery, PRO Ciarán Flynn. Also, the Hurling Development Committee Chairperson Anthony Monaghan, Secretary Colin Brennan, and PRO Martin O'Halloran. The administration staff in Dunganny, your input and assistance are both recognised and invaluable. To my club Kildalkey who have supported me through thick and thin, thank you.
"To the extremely genuine hurling fraternity of Meath who have shown me great support in good and bad days, thank you so much, you will never realise what some of those phone calls and messages meant to me especially following some of the tough days in 2018. Also, your willingness to open your facilities for team training was always a big help to us. Thank you to Larry McGowan and UniFlu for the financial support to the team in the last number of years, without this support the team cannot achieve their goals. To all the media outlets who supported us in our campaigns good and bad, thank you.
"Finally, to my family, my wife Angela and my children who have been the biggest losers as well as the biggest supporters in the last two years, to undertake a county managers position needs the support of the household and I got that in bucket loads. Angela endured the high and the lows following games and training but was always there to listen regardless of the outcome, without this support I could not be involved."
"Angela, you can now book a holiday without trying to guess the fixture schedule"
Regards,
Nick Fitzgerald
Most Read Stories