Founder-member concerned about direction GPA is taking
September 30, 2016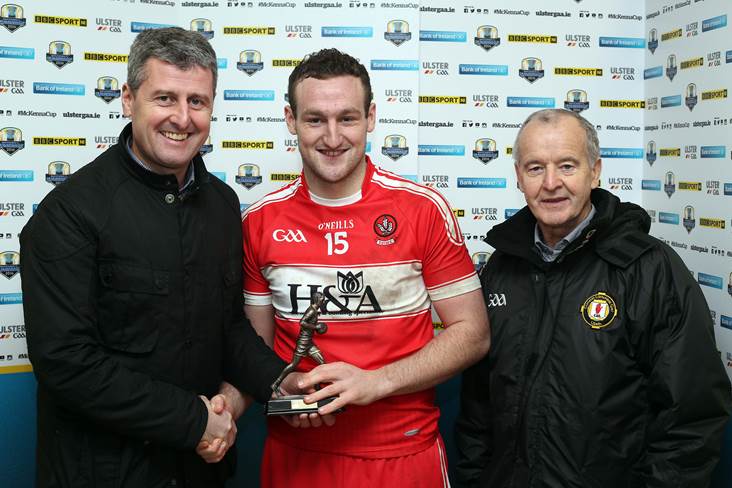 Fergal P McCusker presents a Man of the Match Award to Derry's Shane Heavron. Included is Michael Hasson, Ulster Council.
©INPHO/Presseye/Lorcan Doherty.
Former Derry All-Ireland winning defender Fergal P McCusker doesn't approve of the direction the GPA is taking.
McCusker, who was one of the Association's founding members back in 1999, was speaking to the Belfast Telegraph in the wake of Dessie Farrell's decision to step down as chief executive officer.
"There are some very good things that have come out of the GPA and some other things that are maybe a bit questionable," the current Derry U21 manager said.
"It's always the Leitrim footballer we ask about, or even the Kilkenny footballer if there is such a thing. Are these people getting the same benefits as the likes of the Dublin panel? I wouldn't be so sure. But that's life, that's business and that's how the world works."
"The GPA would say that they are a body that runs by democracy, everybody has a vote and whatever else.
"But on the other hand, like any other organisation, there are three or four people at the top who decide the direction the organisation is going to go. The direction I thought the GPA went was very corporate, very commercial, very advantageous towards the high-profile players that are there and not for all."
McCusker does, however, commend Farrell for the role he played in bringing the GPA under the GAA's umbrella and in brokering a new €6.2m per year deal which will see a number of 'significant' improvements for inter-county players.
"If you look at it from a purely business basis, the negotiations he had with the GAA and the deals he negotiated, you would say he has played a blinder," he continued.
"The GAA might have been happy to keep everybody inside the tent rather than having people outside the tent."
Most Read Stories