Griffin: Dublin don't hide what they're good at
June 08, 2016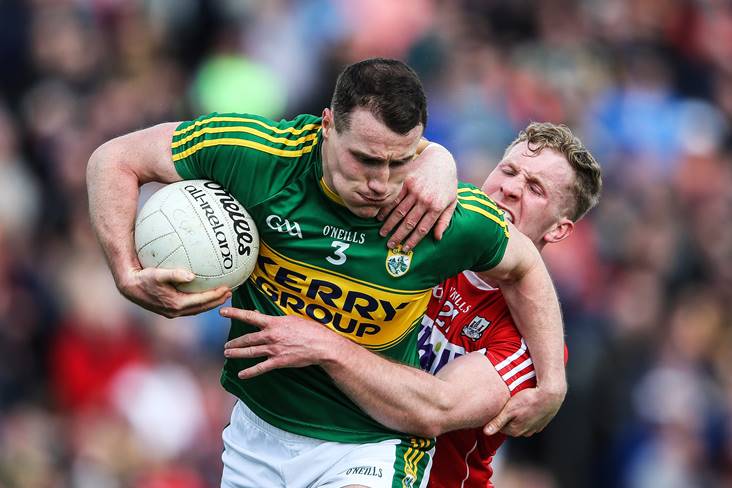 Kerry's Mark Griffin is tackled by Ruairi Deane of Cork
©INPHO
Dublin's intensity and movements makes them hard to play against, according to Mark Griffin.
The Kerry full-back and his team-mates were on the receiving end of a 2-18 to 0-13 defeat at the hands of Jim Gavin's men in the Division 1 final back in April.
"You know what you get from Dublin when you go out there," he told The Irish Daily Star. "They don't hide what they're good at.
"Their intensity is very high. Their forwards make very hard runs. And they make a lot of hard runs. It's not just a case of covering one or two runs.
"They'll make multiple runs and it could be the third or fourth time that they'll get the ball. They wear you down until they can get on the ball and then they'll have runners coming through.
"It can be very hard to live with them in that sense. It's just their intensity is very high.
"They're at this a couple of years, the system they're playing. They've perfected it nearly and it is quite difficult to stop it."
Kerry's defence came under fire following the l1-point defeat and he added: "You've got to take these things on the chin.
"Obviously we conceded too much in the League final and it's something we've to work on.
"As long as criticism is constructive you wouldn't mind. Against Dublin, the way you have to play is go man for man - the way we went was man for man.
"That can leave you quite exposed at the back sometimes. If you leave any of their players free - more so than other counties - they are so skilful they'll come up and do damage against you.
The way they play, at such a high pace, it can be quite difficult at the back sometimes. You have to fight your own corner. You have to outscore them - that's the way we look at it."
Most Read Stories