Ref admits error in Ring final fiasco
June 06, 2016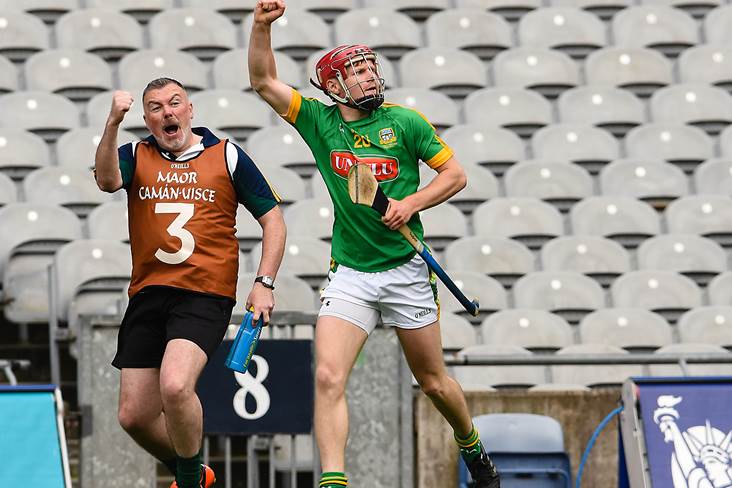 Meath's Sean Quigley celebrates scoring the winning point in injury time against Antrim in the Christy Ring Cup final at Croke Park.
©INPHO/Tom Beary.
As the CCCC prepares to meet tomorrow to discuss what action to take following Saturday's controversial Christy Ring Cup final, referee John O'Brien is believed to have admitted in his report he made a score-keeping error.
Meath were crowned champions on a 2-18 to 1-20 scoreline, despite members of the media and the Antrim management team insisting the game ended in a draw. Problems arose in the last 10 minutes when the Croke Park scoreboard operator and TG4 broadcasters appeared to credit Meath with an extra point which wasn't actually scored. Antrim have reviewed the video of the game and are expected to request a replay, although Meath may not be in a position to field as a number of their players are due to spend the rest of the summer in the US.
"We have a county management meeting on Monday night and there's no doubt it will be on the agenda," Antrim chairman Collie Donnelly told the Irish News.
"Our expectation would be that there would be a replay, whether it's for the Christy Ring or promotion to the Liam MacCarthy, these things can be teased out. I think Croke Park want a quick solution."
Antrim joint-manager Terence 'Sambo' McNaughton said: "Well the referee has to own up to his mistake, doesn't he? There's obviously video evidence. The referee has to stand up and say: 'I got it wrong', and he wasn't helped by whoever was working the scoreboard.
"I think there has to be a replay, for the GAA to save face, there has to be."
Speaking on the Sunday Game last night, former Clare and Dublin manager Anthony Daly suggested that both Antrim and Meath should be in the Leinster SHC round-robin series next year.
"It's unfortunate, the match was a draw, Meath get the cup, the celebrations were wild, then we hear last night [about the appeal]. It's just horrible really," he said.
Most Read Stories