Berlin GAA's first year...from sorrow to success
November 10, 2015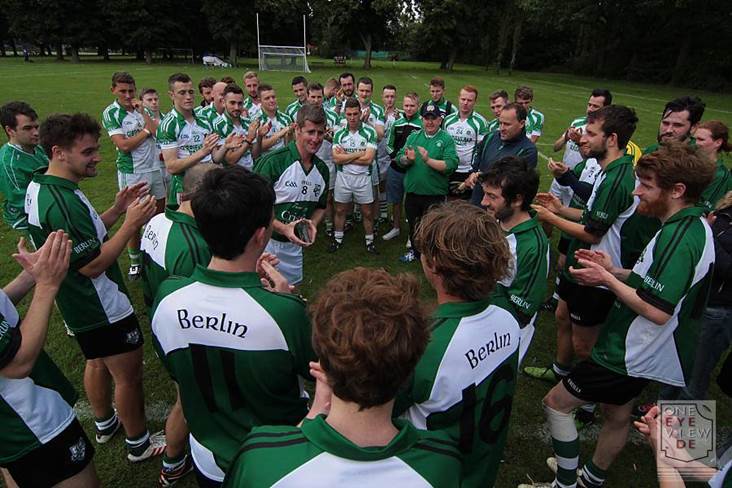 Berlin GAA before their game with Passage West from Cork
This month sees Berlin GAA celebrating their one year anniversary since officially becoming a club and it's no stretch to say that Gaelic games are thriving in the German capital.
That's the word of devoted club PRO Barry Lanigan, who gives a rundown of what has been happening for the gaels of Berlin over the past 12 months.
"We became a GAA club officially in November 2014 with Chris Hennessy, our founding member, at the fore. Chris was from Listowel in Kerry and he passed away from cancer in January this year at forty years of age. Our jersey bears his name.
"In the 12 months we have been together we have travelled a total of 8000km to games fielding mens and ladies football teams and a hurling team too. Our first ever game was in Dresden in October last year. Since then we have competed in tournaments in Munich, Padova, Vienna and Dresden in football and hurling.
"We came third in the regional football league and won the Chris Hennessy Hurling Cup in Dresden, held in honour of our founding member, beating Dresden in the final after wins over Darmstadt and Hamburg.
Berlin GAA lifting the Chris Hennessy Cup
"Still in our infancy, we are looking to promote the existence of our club both in Germany and at home in Ireland. We are a young bunch of expats and Germans, with our oldest committee member being just 33. For new arrivals to the city it is a home from home and an instant large network of friends, GAA heads, musicians, artists and partiers!
"Templehof Airfield is a now disused airport in the heart of Berlin city. In post-World War II times and indeed when the Berlin Wall was still up, it was the only air access point to West Berlin. After a couple of closures, it landed its last plane in 2008.
"Now the entire airport grounds are used as a giant park for city dwellers. The runway is open to joggers, cyclists, inline skaters and kite skaters, while the grassland is a playground for revellers, picnickers, barbecues and music. It is also the birthplace of Berlin GAA.
"Somewhere between the old Cold War baseball pitch and the soccer pitches you'll find Berlin GAA booting and pucking balls about. It all started as a casual meet on Sundays amongst a few die hard GAA lovers taking over a corner of the immense airfield. Numbers were usually poor and the frustration led some to bow out.
"One man who refused to throw in the towel was Kerry's Chris Hennessy. The Listowel native, hungry for competitive games in the European circuit, contacted Dresden GAA who accommodated the fledgling club.
"Hennessy drafted some of the Sunday regulars and his Australian Rules club teammates to compete in Dresden wearing borrowed AFL jerseys and competed in both hurling and football against Prague, Dresden and Budapest. Chris himself, then just turned forty and an active man, had to watch and coach from the sidelines due to a prolonged and severe backache. He was hospitalised within a fortnight and diagnosed with cancer. That was October 2014.
"With the Kerry founder in hospital, his teammates decided that the only way to get into the European league was to set up a committee and become an official GAA club.
"At the time, Berlin was the only European capital without one. On the 5th of November 2014 Berlin GAA became official. A milder than usual winter meant that training sessions continued through Christmas. Chris battled illness bravely but sadly passed away in January 2015.
"Still reeling from the death of their teammate, Berlin persevered with training, knowing they were going to compete in the South Eastern European football league in the spring. March saw them return to a friendly tournament in Dresden, competing in both disciplines against Dresden and Prague. With some match practice they were road worthy and played the first leg of the league in Munich the following month, this time in their brand new kit, generously and proudly sponsored by the Kerry founder's friends and family and bearing his Gaelic name. Further legs of the league took the team to Austria and northern Italy.
"Plane, train or automobile they got there and competed, finishing third from twelve in their inaugural year with Cavan man and club chairperson Anthony McDermott winning player of the tournament in Padova, Italy.
"Berlin hosted their first tournament in August of this year with a combined Bavaria team and Dresden GAA competing in hurling and football. The Berlin men came out on top in both except for a thrilling hurling draw against Bavaria. It was the first outing for the Berlin ladies football team who are rapidly gathering momentum and a force to be reckoned with at future competitions.
The first ever game for Berlin GAA with Chris Hennessy (Back row, extreme left) giving the thumbs up
"A subsequent visit from Cork's Passage West GAA to Berlin was a big task for the still growing Berlin team.  A full squad from the Rebel county descended on the German capital with Berlin, depleted by injuries from the league, losing out only by a goal in the dying seconds. Both clubs exchanged speeches and medals on the pitch after the game. Then in October the Berlin side travelled down to the Pan European Gaelic Football Finals 2015 in the Austrian capital -  a giant competition with over 500 players taking part,  finishing 3rd in their group. 
"The last excursion of 2015, exactly a year from their maiden voyage, was back hurling to Dresden for a crack at the Chris Hennessy Hurling Cup - a cup hosted by Dresden GAA in honour of the Kerryman who had first contacted them twelve months previously to compete. Berlin, Dresden, Hamburg and Darmstadt battled fiercely for the prize, but the capital side fought through injury and fatigue to come out on top and raise the gleaming trophy bearing their late teammate's engraving.
"Berlin GAA's roller coaster debut year saw them journey a total of 8000km playing 27 mens footballs matches, 12 hurling and 6 ladies football games. It is also a massive support network people in the city who are looking for a sporting and social outlet."
If you are interested in joining Berlin GAA you can e-mail Barry at [email protected]
Most Read Stories