The last survivor of the Polo Grounds final passes away
May 13, 2014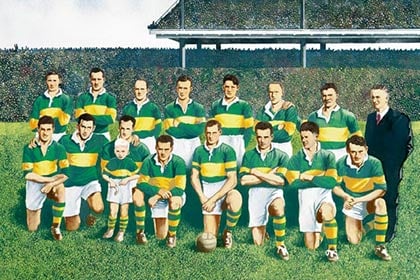 The Kerry squad that won the All-Ireland Senior Football final of 1946. Back: Jackie Lyne, Bill Casey, Frank O'Keeffe, Dan Kavanagh, Paddy Burke, Dan O'Keeffe, Paddy 'Bawn'Brosnan, Front: Teddy O'Connor, Joe Keohane, Paddy Kennedy (Captain), Donal O'Keeffe (Mascot), Tom 'Gega' O'Connor, Eddie Walsh, Batt Garvey, Jack Falvey, Denny Lyne. Painting courtesy of Gaelicart.com
Sad to report the death of Frank O'Keeffe, the last surviving player who started in the epic Polo Grounds final of 1947. Frank was the father of that great Kerry full-back John O'Keeffe. We reprint Frank O'Keeffe's obituary, courtesy of Colin Lacey and Kerry's Eye. Thanks to John Holly who tells us that Mick Finucane of Kerry, who came on as a substitute, is very much hale and hearty.
Feelings of real sadness and regret were generated in Tralee and beyond when news broke of the death of Frank O'Keeffe, late of Lios Dara and Pembroke Street, Tralee, on March 25th.
Frank was born in Ballymullen, Tralee in 1923, and was one of eight surviving children of John and Lily O'Keeffe. He attended CBS Edward Street, Tralee initially and later St. Brendan's Seminary in Killarney. He spent a brief period with the Kiltegan Fathers before deciding that the religious path was not one he wished to tread.
From an early age Frank was passionate about Gaelic football, playing with the John Mitchel's Club in Tralee, with whom he won County Championships in 1947 and 1952. Coming through the minor and junior ranks, he came to prominence in a challenge match against Antrim in 1946 and was selected to play against Roscommon in the All-Ireland football final and the replay in the same year. He played on the forward line with great skill, accuracy and courage. In 1947, he travelled to the Polo Grounds in New York to play for Kerry in an historic final against Cavan on September 14th 1947. He was the last surviving member of the team which started on that day in a match which was to end in cruel defeat for Kerry.
In 1948, Frank married Kitty Barrett from The Kerries and they reared their three sons, Maurice, John and Dominic at their home in Racecourse Road. The passion and skill of the game of Gaelic football was instilled in the children from an early age and John went on to pick up the sporting baton.
Frank O'Keeffe will be fondly remembered by many for the extraordinary energy and personable skills he brought to his workling life at the family furniture business at Pembroke Street, Tralee. He really enjoyed the daily banter and chat and he excelled at 'striking the deal' while all the while ensuring that the customer felt that the deal fell in his or her favour. His personal generosity to those less fortunate was true and genuine. In earlier days in the family business he instigated the monthly auctions at the premises in Pembroke Street, having personally sourced much of the finer lots of antique furniture in the auction rooms of Dublin and Glasgow.
He retired from business in his late seventies and fate dictated that his health deteriorated shortly thereafter. He and his wife Kitty were gently cared for by staff of Our Lady of Fatima Home in Tralee for some years, where Kitty passed away in 2006. Subsequently, Frank spent some time in the dedicated care of the staff of Tralee Community Hospital, where he passed away.
His removal from The Gleasure Funeral Home was attended by a large crowd and the O'Keeffe family was very appreciative of the guard of honour provided by the John Mitchel's Football Club. His remains were received at Our Lady and St Brendan's Church, Tralee, by Fr Sean Hanafin and his funeral Mass was concelebrated by his relative Fr Tomas O Caoimh, Fr. Padraig Walsh, Fr. John Ahern, Fr. Tom Looney and Fr. James Linnane. He was laid to rest in the O'Keeffe tomb at the Old Cemetery in Ardfert.
Frank will be sadly missed by his three sons, Maurice, John and Dominic, his brother Brendan, his daughters-in-law Jane, Liz and Jill, Sharon, his grandchildren Helene, Sinead, Claire, David, Shane and Amy, his brother-in-law, his sisters-in-law, his nephews, nieces, relatives and many friends.
Most Read Stories