'He was cut from the panel but kept turning up for training'
April 25, 2014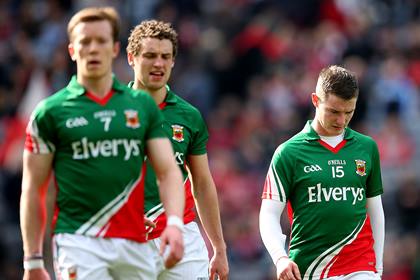 Mayo's Mickey Sweeney dejected after the league semi-final loss to Derry ©INPHO/James Crombie
Did you hear the story about the player who was dropped from the Mayo panel but ignored the manager's instructions and kept turning up at training?
Former Mayo star John Casey tells the tale in his latest column in the
Mayo Advertiser
, in which he describes that this time of the year was always nerve wracking for those players who feared being dropped off the panel prior to the championship.
In one particular year, which Casey doesn't specify in order to keep the identity of both the player and manager in question a secret, Mayo had a couple of weeks off after the league and when they met up for the first time ahead of the Connacht SFC there were a few empty spaces in the dressingroom.
A number of players who had soldiered through the league had been told that their services were no longer required but one man decided he knew more about choosing the right panel than the management did.
"One particular Sunday evening when we were meeting for the first time for the start of our championship training, I was sitting in the dressing room watching the door to see who would walk in or more importantly who would not, there's nearly always a big talking point when a panel is culled," writes Casey in his Mayo Advertiser column.
"When a certain player walked in I noticed our management team look at each other in bewilderment as apparently this player was told he didn't make the final 30.
"This particular guy ate and slept football and simply wasn't taking no for an answer, the management hadn't the heart to tell him a second time he wasn't in and the fairytale ending - he started that year's Connacht Final such was his persistence. The moral of the story I guess is no doesn't always mean no."
Most Read Stories