TG4 announce season of live games
January 21, 2014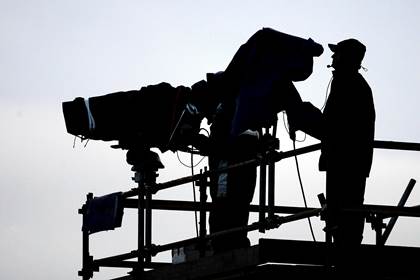 GAA County Football Finals coverage continues on TG4 this coming weekend.
©INPHO
TG4's extensive live GAA coverage for 2014 begins next Sunday afternoon with live coverage of Kildare v Meath in the Bord na Móna O'Byrne Cup Final from Newbridge.
The station's Gaelic games coverage continues throughout Spring with exclusive live and deferred coverage from all of the main competitions, including the Allianz Football and Hurling Leagues, AIB All Ireland Club Hurling & Football Championships, Cadbury All-Ireland Under 21 Football Championship, Irish Daily Mail Sigerson and Fitzgibbon Cup Finals, Masita Post Primary Schools Senior Finals, O'Connor Cup Final and the Tesco Ladies National Football League Finals.
Viewers will also get the opportunity to see all of the weekend's action with highlights on TG4 each Monday evening on GAA 2014 at 8:30pm. This popular hour long weekly highlights programme will feature action from all of the weekends top matches.
TG4's Rónán Ó Coisdealbha said: "We are looking forward to a new season of live gaelic games coverage on TG4 which brings new hopes for many teams and new managers. We will also get a chance to see how the much-discussed new referee's black-card rule is being implemented."
GAA BEO on TG4
January
Sunday 26 January Bord na Móna O'Byrne Cup Final, Kildare v Meath, Live from Newbridge (2pm)
February
Sunday 2 February Allianz Football League LIVE - Round 1, Division 1 - Kildare v Mayo
Sunday 2 February Allianz Football League DEFERRED - Round 1, Division 1 - Cork v Westmeath
Saturday 8 February AIB All Ireland Club Hurling Championship Semi-Final: Na Piarsaigh (Limerick) v Portumna (Galway) from Semple Stadium (5pm)
Saturday 8 February AIB All Ireland Club Hurling Championship Semi-Final: Mt Leinster Rangers (Carlow) v Loughgiel Shamrocks (Antrim) from Páirc Esler, Newry (3pm)
Sunday 9 February Allianz Football League LIVE - Round 2, Division 1 - Westmeath v Dublin
Sunday 9 February Allianz Football League DEFERRED - Round 2, Division 1 - Tyrone v Mayo
Saturday 15 February AIB All Ireland Club Football Championship Semi-Final: Castlebar Mitchels (Mayo) v Dr Crokes (Kerry) from O'Moore Park, Portlaoise (3pm)
Saturday 15 February AIB All Ireland Club Football Championship Semi-Final: St. Vincents (Dublin) v Ballinderry (Derry) from Páirc Esler, Newry (5pm)
Sunday 16 February Allianz Hurling League LIVE - Round 1, Division 1A - Clare v Kilkenny
Sunday 16 February Allianz Hurling League DEFERRED - Round 1, Division 1A - Galway v Dublin
Saturday 22 February Irish Daily Mail Sigerson Cup Final (Venue: Queens University, Belfast)
Sunday 23 February Allianz Hurling League LIVE - Round 2, Division 1A - Kilkenny v Tipperary
Sunday 23 February Allianz Hurling League DEFERRED - Round 2, Division 1A - Dublin v Clare
MARCH
Saturday 1 March Irish Daily Mail Fitzgibbon Cup Final (Venue: Queens University, Belfast)
Sunday 2 March Allianz Football League LIVE - Round 3, Division 1 - Mayo v Kerry
Sunday 2 March Allianz Football League DEFERRED - Round 3, Division 1 - Kildare v Tyrone
Sunday 9 March Allianz Football League LIVE - Round 4, Division 1 - Kerry v Tyrone
Sunday 9 March Allianz Hurling League DEFERRED - Round 3, Division 1A - Kilkenny v Galway
Sunday 16 March Allianz Football & Hurling League - Live & deferred coverage
Monday 17 March AIB All Ireland Club Football & Hurling Championship Finals (Double header at Croke Park)
Saturday 22 March O'Connor Cup Final (Ladies Football 3rd Level Colleges) Venue: Queens University, Belfast
Sunday 23 March Allianz Hurling League, Round 5¬ - Live & deferred coverage
Sunday 30 March Allianz Football League, Round 6 & Allianz Hurling League Division 1 Quarter Finals - Live & deferred coverage
APRIL
Saturday 5 April Masita Post Primary Schools Senior Hurling Finals (Semple Stadium, Thurles)
Sunday 6 April Allianz Football League, Round 7 Live & deferred coverage
Saturday 12 April Masita Post Primary Schools Senior Football Finals (Páirc an Chrócaigh - Double header)
Sunday 13 April Allianz Football League Division 1 semi-finals
Saturday 19 April Cadbury All-Ireland Under 21 Football Championship Semi-Finals (Ulster champions v Leinster champions, Munster champions v Connacht champions)
Sunday 20 April Allianz Hurling League Division 1 Semi-Finals (Double header)
Saturday 26 April Allianz Football League Finals - Division 3 & 4 (Double header)
Sunday 27 April Allianz Football League Finals - Division 1 & 2 (Double header)
MAY
Saturday 3 May Cadbury All Ireland Under 21 Football Championship Final
Sunday 4 May Allianz Hurling League - Division 1 Final
Saturday 10 May Tesco Ladies National Football League Finals - Division 1,2 & 3 (Triple Header)
Most Read Stories