Adams declares Antrim interest
September 05, 2012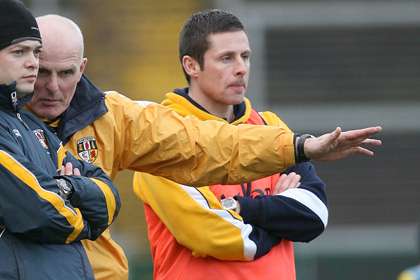 Former Antrim manager Liam Bradley and selector Gearoid Adams
Gearoid Adams could yet throw his hat into the ring for the vacant Antrim football manager's job.
The former county star, who served as assistant manager this year, has declared an interest in succeeding Liam Bradley, but admits he could be put off if funding for the team is cut.
"Before you jump, you would have to work out what plans the county board have for the football team next year," he told The Irish News.
"I enjoyed the professional set-up that 'Baker' had in place, I would like to think that professional approach is going to continue. "
The St. John's clubman - who is a son of Sinn Finn leader Gerry Adams - has stressed the need for the next manager to apply a zero tolerance policy regarding players taking holidays and so on.
"To be a good manager, there has to be a mean streak in you," he continued.
"The mindset towards holidays is something that definitely has to be changed and it is something that I changed with St. John's at club level. County players shouldn't be booking holidays during the championship.
"In saying that, I know some of our boys this year, really good lads, cancelled holidays, and never worried about the money. But there is still a mindset in Antrim that we will not be playing football in August. That has to be sorted out."
Most Read Stories