Die-hard O'Dwyer
August 03, 2011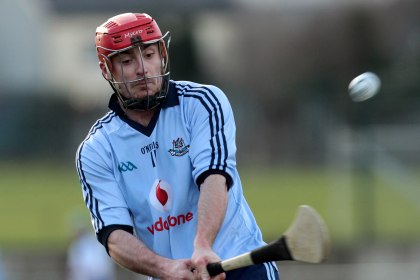 Dublin hurling recruit Ryan O'Dwyer
Ryan O'Dwyer is not afraid to put his body on the line.
Match-winner against Limerick last day out, the Dublin attacker is ready to deliver another fearless display against his native Tipperary in Sunday week's All-Ireland semi-final. And if he happens to take another belt or three, so be it:
"Look, to be honest, I'm the type of lad that when I'm on the field I don't care about myself. I just throw my head in. If I lost my hurley, I'd throw my head in," O'Dwyer is quoted as saying in The Star.
"If it means stopping them getting the ball up the field or scoring a point, I'd gladly do that for the greater good.
"I know that might sound a bit 'ah yeah, he's talking shite', but I actually do believe that. Scars heal; bruises heal; bones heal. As far as I'm concerned, it's for the greater good of the team.
"Me jumping in front of a sliothar or putting my leg over a ball, if that gets us a point I'd gladly do that.
"I've a history of broken bones and scars. I actually counted them up there the other day with my brother, all the scars I've had, and in my body I think I've had one hundred stitches. Most of them are this year alone."
Most Read Stories