Weekend football previews
July 29, 2011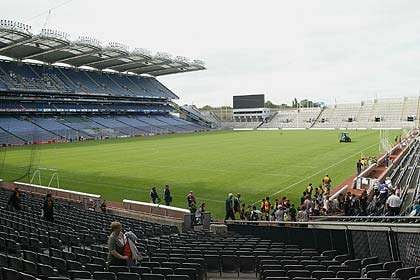 Croke Park
Three provincial champions face the prospect of being knocked out off the championship for the first time this season as the second chance saloon has passed long by. We preview the three All-Ireland SFC quarter-finals and the delayed Round 4 Qualifier.
Saturday 30 July

All-Ireland SFC Qualifier Round 4 - Roscommon v Tyrone, Croke Park, 4pm
Tyrone have gone quietly about their business in the qualifiers and dealt with all that's been thrown at them without creating too much fuss. They will be red hot favourites to advance to the quarter-finals on Saturday afternoon.
Mark Donnelly, Peter Harte and Kyle Coney have taken the pressure off some of the more experienced players in the squad and they seem have added much needed freshness to the side this year, which was badly needed.
Throw in the likes of Tommy McGuigan, Stephen O'Neill and Sean Cavanagh to name just a few and they have many sources to get scores from, as Armagh will testify too. The Red Hand County should have a major say in the outcome of this year's championship yet.
For Roscommon, this looks a bridge too far. They are a decent side but their reliance on Donie Shine, Cathal Cregg and Senan Kilbride is there for all to see and Tyrone have the defenders to cope with that trio.
The Rossies put in a decent performance against Cork last year and there is no doubt that they will give it their all, but their efforts will be in vain as Tyrone continue their quest for their fourth All-Ireland title.
Verdict: Tyrone
Roscommon - TBC
Tyrone - P McConnell; M Swift, J McMahon, R McMenamin; S O'Neill, C Gormley, P Jordan; K Hughes, S Cavanagh; C Cavanagh, B McGuigan, P Harte; T McGuigan, M Donnelly, K Coney.
All-Ireland SFC quarter-final - Donegal v Kildare, Croke Park, 6pm
This is one of the most eagerly awaited clashes of the year as two teams that harbour genuine designs on winning the All-Ireland title clash at GAA headquarters. Two different styles go head to head as Donegal's defensive style squares off against Kildare's pressing flair.
Both teams like to run the ball, but in recent outings Kildare have had huge success kicking the long ball into Tomas Connor and Rob Kelly. They are two big men that will cause any defence problems on their day. James Kavanagh may not be guaranteed a starting spot these days, but he is a key player for the Lilywhites and his score taking is exceptional at times.
The switch of John Doyle to midfield has paid off, but he was the subject of some 'rough treatment' from the Derry players last week and may face the same sort of attention on Saturday evening.
Donegal have silenced their critics and have stated their intent to do it their way, which has gotten them this far. Jim McGuinness is sure to have curtailed the celebrations after the Ulster final, as they will want to go as far as they can in the championship.
This is a tough call to make, but Kildare's experience at this stage of the championship should stand them, but it is certainly match that will go all the way and to back the draw might not be a bad bet. However, Kildare to win, by a narrow margin.
Verdict: Kildare
Donegal - P Durcan; F McGlynn, N McGee, P McGrath; A Thompson, K Lacey, K Cassidy; M McElhinney, N Gallagher; M McHugh, M Hegarty, R Bradley; P McBrearty, M Murphy, C McFadden.
Kildare - Shane Connolly, Andriu MacLochiann, Michael Foley, Hugh McGrillen, Brian Flanagan, Morgan O'Flaherty, Emmet Bolton, John Doyle, Daryl Flynn, Padraig O'Neill, Eoghan O'Flaherty, Eamonn Callaghan, Robert Kelly, Tomas O'Connor, James Kavanagh.
Sunday 31 August

All-Ireland SFC quarter-final -Kerry v Limerick, Croke Park, 2pm
Limerick are on a roll at the moment and have defied the odds to reach the quarter-final after three impressive performances against Offaly, Waterford and Wexford. The latter being their most impressive to date.
Despite their injury concerns, the Shannonsiders have put aside their problems and worked hard as a team. They are reaping the benefits of this as not many would have given them a chance of playing in Croke Park in an All-Ireland quarter-final after their eleven-point loss to Kerry in the Munster semi-final.
The return of Stephen Lucey and Mark O'Riordan to the squad after the hurlers exit from the championship is a big boost to them as they look to upset the massive odds that they face on Sunday.
Kerry have gone from strength to strength since they played Limerick in the Munster championship and they now have a full strength squad to choose from as players return from injury and Tomas O'Se is available again after suspension.
In the Munster final, they showed what they are capable of doing to one of the best sides in the country and they will relish the open spaces of Croke Park. Anthony Maher and Bryan Sheehan are excelling at midfield and supplying plenty of ball to the in-form forwards. Limerick have done well to get this far, but it looks like the end of the line for the Treaty County.
Verdict: Kerry
Kerry - B Kealy; K Young, M Ó Sé, T O'Sullivan; T Ó Sé, E Brosnan, A O'Mahony; A Maher, B Sheehan, P Galvin, Declan O'Sullivan, D Walsh, C Cooper, K Donaghy, Darran O'Sullivan.
Limerick - B Scanlon; T Stack, S Gallagher, S Lavin; J Riordan, J McCarthy, P Ranahan; S Buckley, J O'Donovan; S Kelly, J Mullane, M Sheehan; G Collins, S O'Carroll, I Ryan.
All-Ireland SFC quarter-final - Mayo v Cork, Croke Park, 4pm
Connacht football has come in for some harsh criticism this year and to be honest, there was a lot of truth to what the naysayers came out with. A lot of the games in that provincial campaign were of poor fare. In fairness, the majority of matches were played in atrocious conditions, but there is still a concern over the quality of football.
Mayo have the chance to silence many doubters on Sunday afternoon, but they will not have faced the type of test that awaits them this weekend. Mayo are not the biggest team in the world and against a more physical Cork team, they could struggle in that department.
The one thing Mayo have are good forwards and they need the right ball going into them in order to trouble Cork. If the likes of Alan Freeman and Alan Dillon don't get the right supply then they will be in trouble.
Cork's performance against Down was outstanding, some of the scores taken were of the highest order and with the likes of Donnacha O'Connor in the form of his life, it is hard to see many teams stopping the Rebels from winning consecutive All-Ireland titles. That's of course unless a certain hoodoo continues against a fellow Munster team.
Verdict: Cork
Cork - A Quirke; E Cotter, M Shields, E Cadogan; N O'Leary, J Miskella, P Kissane; A O'Connor, A Walsh; F Goold, P Kelly, P O'Neill; D O'Connor, N Murphy, P Kerrigan.
Mayo - Robert Hennelly; Keith Higgins, Ger Cafferkey, Tom Cunniffe; Richie Feeney, Donal Vaughan, Trevor Mortimer; Aidan O'Shea, Seamus O'Shea; Kevin McLoughlin, Alan Dillon, Andy Moran; Enda Varley, Alan Freeman, Cillian O'Connor.
Most Read Stories