"I was expecting in the roadmap something like 700 or 800 supporters going to games"
September 16, 2020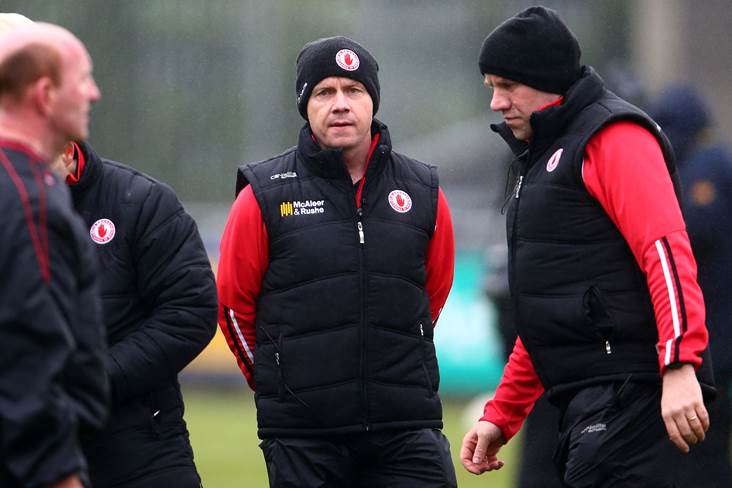 Peter Canavan.
©INPHO/Cathal Noonan.
Tyrone great Peter Canavan says he's very disappointed with the Irish government's decision to only allow a maximum of 200 spectators at GAA games.
Yesterday the government unveiled its new 'Living with Covid' plan, which sees a return to outdoor sporting events for spectators in the Republic of Ireland with 200 allowed into venues with the capacity to host crowds of 5,000 or more, while smaller grounds will be allowed to permit 100 people.
Speaking on Sky Sports' Inside The Game, two-time All-Ireland winner Canavan sees the latest guidelines as a step back, pointing out that there had been no issue with crowds of 400 north of the border.
"It's been unbelievable. I'm amazed at that statement. I'm very disappointed with the Irish government because I think at this stage, things have moved on," he said.
"If you recall at the start of the crisis, it was the GAA that were to the fore in terms of leadership, they were very decisive. And it was their lead, not only to their own members, but across the country everybody followed suit and realised the seriousness.
"Pitches were closed, walkways around pitches weren't even used. They showed great leadership then, and since then I think things have moved on somewhat.
"The GAA in my opinion still have their finger on the pulse. And with at least 400 supporters here in recent weeks, there's been no issues. It hasn't exacerbated the problem at all. So in my opinion, I was expecting in the roadmap something like 700 or 800 supporters going to games.
"Not only that, but there's a lot of county finals coming up. And the fact that there's only 200 at it, it means that there's a greater chance of bigger numbers watching the game indoors and if anything, leading to the numbers going up. Very disappointed. I know that the Irish government have made a few steps forward, but [this is] a big step back in my opinion."
Most Read Stories