2024 O'Byrne Cup and Walsh Cup fixtures announced
November 10, 2023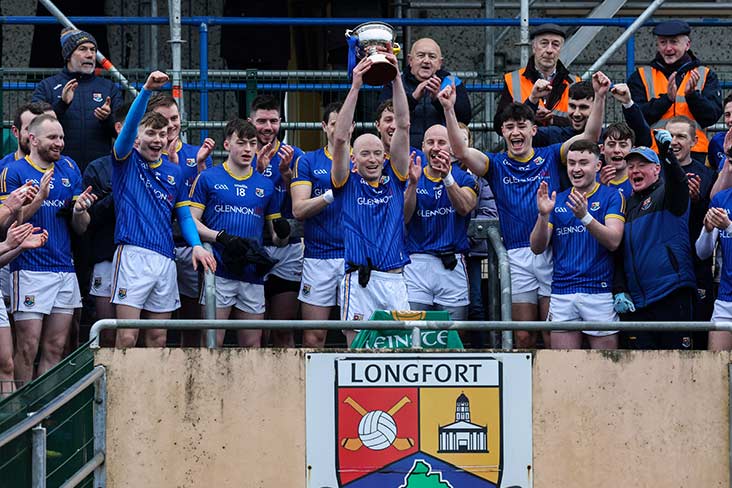 Longford's Barry O'Farrell lifts the O'Byrne Cup. ©INPHO/Lorraine O'Sullivan.
The times and dates for the 2024 O'Byrne Cup and Walsh Cup fixtures have been released.
The O'Byrne Cup reverts to a knockout competition after a number of counties withdrew from playing out the round-robin competition earlier this year. Offaly also gave a walkover to Louth in the semi-final. However, teams beaten in their first game will have another game in a new Shield competition.
The Walsh Cup continues to be played on a round-robin format with three groups of three. Both Leinster pre-season competitions get underway in the first week of January.
O'Byrne Cup
Round 1
Wednesday, January 3
Wexford v Wicklow
Carlow v Kildare
Laois v Offaly
Quarter-finals
Saturday, January 6
Winner 1 v Winner 2
Winner 3 v Dublin
Meath v Louth
Longford v Westmeath
Saturday, January 13
Semi-finals
Winner 5 v Winner 4
Winner 6 v Winner 7
Final
Winner 8 v Winner 9
Walsh Cup
Group 1
Carlow
Kilkenny
Wexford
Group 2
Antrim
Westmeath
Dublin
Group 3
Offaly
Laois
Galway
Round 1
Thursday, January 4
Dublin v Westmeath, Parnell Park
Laois v Offaly, Laois Hire O'Moore Park
Round 2
Sunday, January 7
Carlow v Kilkenny, Netwatch Cullen Park
Losers Dublin/Westmeath v Antrim, TEG Cusack Park/Parnell Park
Losers Laois/Offaly v Galway, Ballinsloe/Tullamore
Round 3
Sunday, January 14
Wexford v Losers Carlow/Kilkenny Chadwicks Wexford Park/Nowlan Park
Antrim v Winners Dublin/Westmeath TEG Cusack Park/Parnell Park
Galway v Winners Laois/Offaly Ballinsloe/Tullamore

Semi-finals
Sunday, January 21
Winners Carlow/Kilkenny v Wexford Chadwicks Wexford Park/Nowlan Park
Winners Group 2 v Winners Group 3 TBC
Final
January 28
Most Read Stories