Cork reign supreme with eight Camogie All-Star Awards
November 05, 2023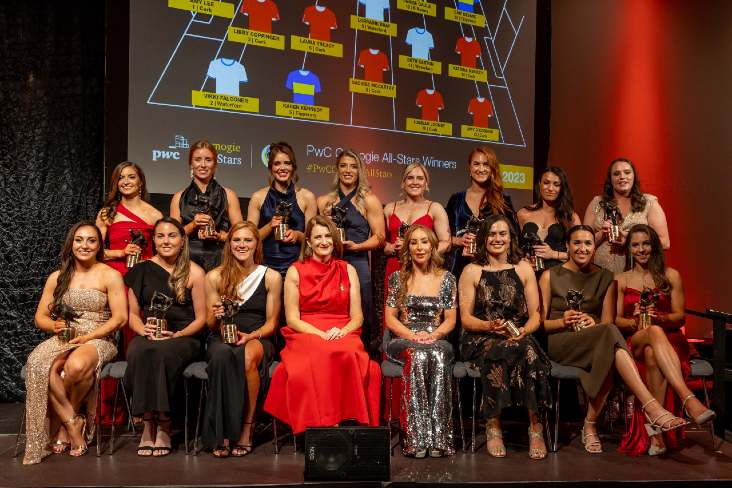 Cork reign supreme with eight Camogie All-Star Awards
The winners of the 2023 PwC Camogie All-Star Awards were announced at a prestigious awards ceremony in Croke Park.
Amongst the winners for Cork's were Captain Amy O'Connor, Katrina Mackey and Hannah Looney in the forward line. Cork's trio of Libby Coppinger, Meabh Cahalane and Laura Treacy held a solid defensive line in front of fellow teammate Amy Lee in goals. The final Cork All-Star was awarded to Saoirse McCarthy who displayed great leadership in the middle of the field this season.
All-Ireland Championship finalists, Waterford picked up three awards, with Vikki Falconer in Corner Back, Lorraine Bray in Midfield and Beth Carton in Centre Forward. The Deise's sharpshooter Beth Carton was also awarded the Senior Camogie Player of the Year award, as voted by her peers.
Senior Semi Finalists, Tipperary claimed two awards with Karen Kennedy taking the Number 5 position, alongside the Premier County's Corner Forward Cáit Devane in the team.
The last two positions on the team were awarded to Galway's Róisín Black at Number 4 and 2022 All-Ireland Champions Kilkenny's Denise Gaule at Number 12 as Half Forward.
Derry's Aine McAllister, who co-captained the All-Ireland Intermediate winning team, scooped up the Intermediate Player of the Year, in what was a superb year for the Derry forward.
Ellen Casey of Clare won the coveted PwC GPA Camogie Premier Junior Player of the Year award after the team triumphed over Tipperary in the All-Ireland Premier Junior Final in Croke Park. The PwC GPA Camogie Players of the Year were selected after voting by intercounty players through the Gaelic Players Association.
The 2023 PwC Camogie Manager of the Year recipient was Cork's Matthew Twomey, who in his final game as Manager, helped the team claim the All-Ireland title and reinstate themselves as the dominant force in camogie. It recognises the indelible mark Twomey has left on the team and his legacy for many years to come.
The recipients of the recently announced 2023 PwC Camogie Soaring Stars also picked up their awards at the glamourous ceremony in Croke Park. Derry collected their eight awards, Meath won four, Clare claimed two awards and one for Tipperary.
2023 PwC All-Star Winners:
Amy Lee (Cork)
Vikki Falconer (Waterford)
Libby Coppinger (Cork)
Róisín Black (Galway)
Karen Kennedy (Tipperary)
Laura Treacy (Cork)
Meabh Cahalane (Cork)
Saoirse McCarthy (Cork)
Lorraine Bray (Waterford)
Hannah Looney (Cork)
Beth Carton (Waterford)
Denise Gaule (Kilkenny)
Amy O'Connor (Cork)
Katrina Mackey (Cork)
Cáit Devane (Tipperary)
2023 PwC GPA Camogie Players of the Year Winners:
Beth Carton (Waterford) Senior
Aine McAllister (Derry) Intermediate
Ellen Casey (Clare) Premier Junior
2023 PwC Camogie Manager of the Year
Matthew Twomey (Cork)
2023 PwC Soaring Star Winners:
Niamh Gribbin (Derry)
Niamh Quinn (Derry)
Claire Coffey (Meath)
Sophia Payne (Meath)
Lauren McKenna (Derry)
Aoife Ní Chaiside (Derry)
Ellen Casey (Clare)
Dervla O'Kane (Derry)
Aoife Minogue (Meath)
Mairead McNicholl (Derry)
Aine McAllister (Derry)
Amy Gaffney (Meath)
Aoife Shaw (Derry)
Caoimhe Cahill (Clare)
Jean Kelly (Tipperary)
Most Read Stories