"There was no way of repairing it" - Gallagher on fractured relationship with McGuinness
August 04, 2021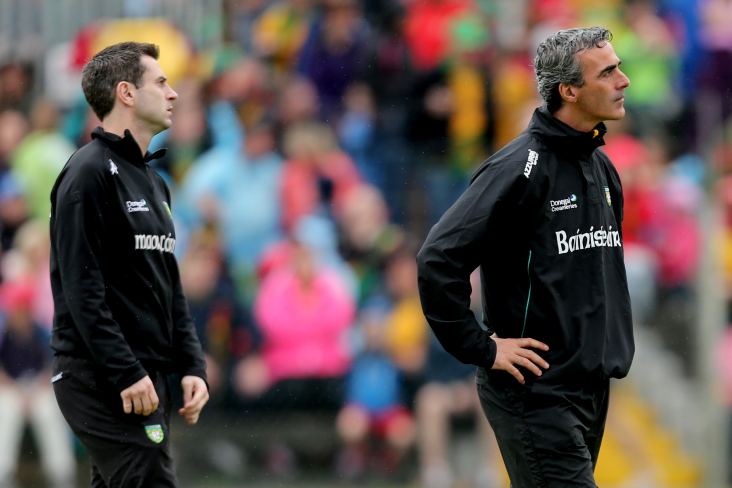 Selector Rory Gallagher and manager Jim McGuinness during their time with Donegal ©INPHO/James Crombie
Former Donegal assistant manager Rory Gallagher has spoke on how his relationship with Jim McGuinness broke down in 2013.
McGuinness guided the Tir Chonaill County to its second ever All-Ireland SFC success the previous year with Gallagher a key component of his backroom team
Speaking on BBC Sport NI's 'The GAA Social' podcast, Fermanagh native Gallagher lifted the lid on disagreements he had with McGuinness over the team selection for the 2012 Ulster SFC final and how the relationship between them "became fractured" the following season.
"In 2013 it definitely became fractured," said the current Derry boss, who would go on to succeed McGuinness in Donegal after his depature at the end of the 2014 season. "Jim was away with Celtic and the communication wasn't there as much. I probably would have liked to get training earlier in the year and there were just differences of opinions of players. It just wasn't possible to mend it.
"We had a meeting. The previous day I had been at a sevens tournament in Enniskillen. There were a few Donegal legends and I made it clear to them and the county board that I was meeting them the next morning to jack it because it would have been too fractured.
"Jim tried to turn the tables so there is a disagreement on how it ended. That's the way it goes.
"At the meeting we had disagreements. It was a cold meeting because it was frosty between us at that stage. There is no point saying any different.
"There was no way of repairing it, there was too much difference of opinion. At the end of the day it was a brilliant time and a magical period, and I was very grateful for that.
"I've never seen him since. I think it would be a bigger regret if we didn't win All-Irelands and have the period we did. You just move on in life and that's it. If you feel you are wronged you just get on with it."
Most Read Stories