"We want to be one of the top teams in Ulster and in the country"
June 20, 2021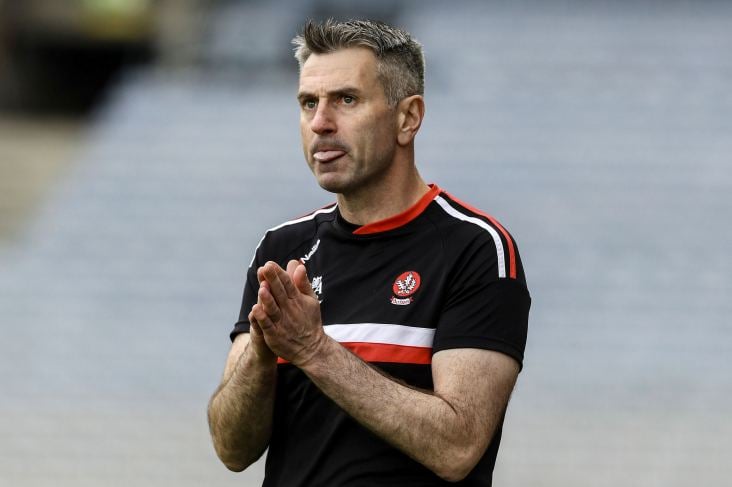 Derry football manager Rory Gallagher during his side's Division 3 final win over Offaly
Derry boss Rory Gallagher says his players have their eyes firmly set on the Ulster championship after yesterday's Allianz Football League Division 3 final victory over Offaly.
The Oak Leafers were comfortable in a 0-21 to 1-6 win over their Leinster counterparts at Croke Park and, speaking after the game, Gallagher credited his players' "attitude and commitment" as they get set to face either Down or Donegal three weeks from today.
"I'd be very pleased with the attitude and commitment to each other," Gallagher is quoted saying by RTE Sport.
"There were moments when I felt we just took wrong options and, call it what you want, we were a bit selfish on the ball, which I wouldn't be happy with whatsoever. It's not unlucky when you miss some chances, and we've worked on that."
He continued: "We want to be one of the top teams in Ulster and in the country. I expect us to be a wee bit better than we are, that's a sign of the potential of the team. But we had to prove that we were good enough to get out of Division 3.
"We were thinking of it (the Ulster Championship) after the first league game. We felt, the way we came out of the blocks it was going to take a very unlikely series of events for us not to be promoted.
"We were good enough to come out the other side. So, our eyes have been on Down and Donegal."
Most Read Stories