Castleknock raise over €27,000 for SONAS
June 03, 2020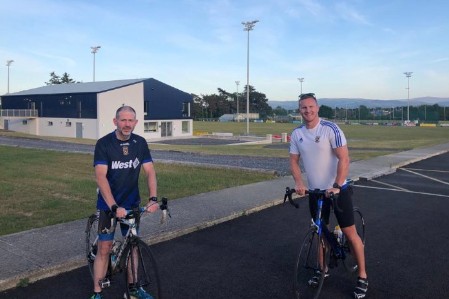 Finbar Brady and Ciarán Kilkenny who cycled 800km
Castleknock was buzzing over the Bank Holiday Weekend as hundreds of their members and friends walked, ran, cycled and even rowed to raise funds for SONAS.
All funds raised went to the organisation which provides refuge for women and children subject to Domestic Violence in the Dublin 15 area.
The original target of 3,000kms was surpassed as over 17,500kms were covered as 924 participants were involved in 801 fundraising entries.
Players/mentors/members have taken on some amazing challenges to #AnswerTheCall including Chief Organiser Shane Boland (running 30kms/cycling 50kms – with additional kms from Michael, Marian and Nicky); Finbar 'The Beast' Brady and Ciarán Kilkenny (cycling 400kms each); Cara 'Go Cara' Warnock (cycling 42kms); Shane Coffey (80kms); Darragh Warnock (42km run and 42 km cycle); Ted Leddy (walking 20kms); Susan Cryan (walking 20kms); Paul Hughes (Nudiefoods - 30kms); Luke Whelan (30kms); Jack Banks; Colm Deehan (30kms); Cian O'Dulaing (running 30kms); Ciarán Dennehy (30kms); Derek Kinnevey (45kms); Andrew Twinner Hughes (running 80kms – in London); Declan O'Sullivan (cycling 400kms+); John McMenamin (running 30kms/cycling 150kms); Cian Spillane (running 30kms/cycling 100kms); Gareth O'Hara (running 30kms/cycling 30kms); Niall Tutty (running 30kms); GerLad (running 20kms/cycling 30kms); Eoin Dennehy (cycling 100kms); Eoghan O'Callaghan (our first Footballer of the Year in 1999 (running 20kms+); Seamus O'Carroll (cycling 100kms); Eoghan Kearney (running 20kms/cycling 80kms); Liam Quinn and Paul Bourke (running 30kms/cycling 100kms); Stephen Byrne (walking 30kms); Joseph (Joe) Murray (running 20kms/cycling 100kms); Michael Wylie (walking 30kms); Andy Lonergan (cycling 100kms); Conor Murray (running 30kms); Paul Donnelly (cycling 20kms); Erick O'Neill (running 10kms/cycling 50kms); Shay Hogan (cycling 80kms); John Boyle (walking and running); Sean Andrews (cycling 150kms); Denis Lally (running 20kms/cycling 20kms); Eoin Brady (running 20kms/cycling 100kms; Ben Mulcahy (running 30kms/cycling 70kms); Brian Clark (cycling 100kms); 2012 Boys Mentors and Parents (walking, running/cycling 500kms between them); Rob Wylie (running 30kms – in Galway); 'Twinner' 1 or 2? (running 30kms/cycling 70kms); Cian Boyle (running 20kms/cycling 120kms); Senan Hackett (running 20kms/cycling 100kms); Morven Connolly (running 30kms); Aidan Kearney (running/cycling 50kms); Conor Chawke (running 30kms/cycling 100kms); Eoin Crossen (cycling 100kms); Andrew Griffith (Cycling); Mikey Galvin (running 30kms); Kevin Stephenson (running/cycling 100kms); Emma Doyle (walking/running 10kms); Tom Quinn (Snr) and Sean O'Neill (cycling 40kms); Miriam Ryan (walking/cycling 11kms); Linda Daly (walking/jogging/cycling); Jack Chambers T.D. (running 10kms); the 2013 Boys (Cian, James, Cathal, Cian, Odhran) not sure what they did; Damian Whelan (on his birthday) and Eddie Grange (walking 30kms) and Club Secretary Sean McLaughlin and James (cycling 160kms) and then the families, the Begleys (Eimear, Clodagh, Liam, Sadhbh) wearing the Castleknock colours in Ocotillo, Arizona, USA; the Doyles; the Manicles; the Carolans (Andy, Katie and Alannah); the Farrells (Brian, Amy, Liza); the Fallons (Liam. Eleanor and Diarmuid) on their rowing machine; the Shaughnessys (Padhraig and co.); the O'Connors (Gerry and Sophie); the Dillons (Edel, Rory, Lochlann, Senan); the Mullens (Matthew and co.) and on and on it goes ……..
Every kilometre counts but in the end it's the money we raise that matters most - donations accepted until June 25 at https://www.idonate.ie/fundraiser/11385521_castleknock-gaa--answerthecall.html
Most Read Stories