Clubs seeing huge increase in online lotto sales
May 26, 2020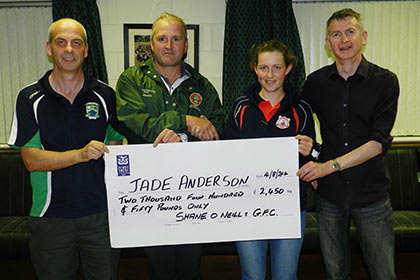 Jade Anderson, recent winner of the Shane O'Neills lotto, pictured receiving her winnings from Peter McKeown, Mick Mackin and Gerry Barry.
The club lotto is a regular fundraiser favoured by a huge number of GAA clubs and those who have continued online during the Covid-19 restrictions have seen a massive jump in online sales.
The weekly club lotto draw held in a local pub or the clubhouse was one of the first fundraiser events that went by the wayside during the current pandemic.
A lot of clubs have postponed their weekly lotto draws but a number are continuing using online portals and those who are doing so are seeing a four time increase in online sales according to club management platform Clubforce.
The crisis has forced many clubs to embrace the digital age because the traditional 'cash in an envelope' lottery entry is hugely problematic during Covid-19.
"There was a fear amongst clubs that senior club members who were typically the most reliable lottery players might not embrace the technology but as we have seen in recent months, grandparents have immersed themselves in technology using the likes of Zoom and Facebook Live to connect with grandchildren and other family, so entering the club lotto online is another convenient way of continuing to support the local club," Clubforce CMO Paul Madden said.
Most Read Stories