'We wish Eamonn all the very best with Cavan' - Meath's Niamh O'Sullivan
September 16, 2023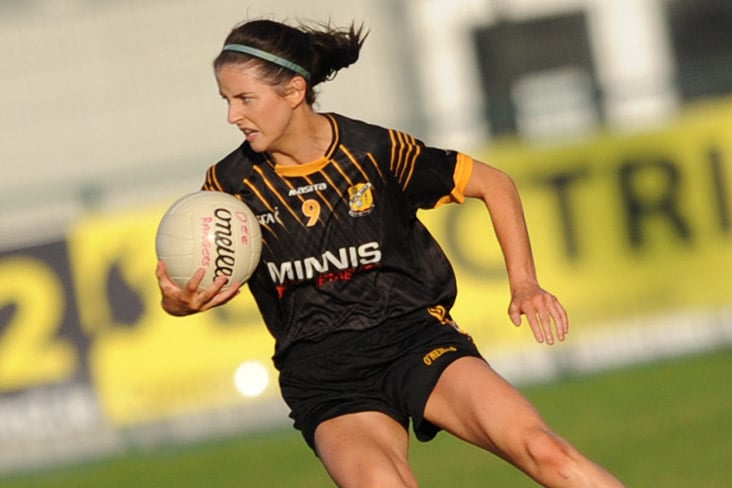 Niamh O'Sullivan Dunshaughlin Royal Gaels
In what has been a rare year without some form of inter-county silverware, Meath stalwart Niamh O'Sullivan is hoping to achieve another career highlight in the colours of Dunshaughlin Royal Gaels over the coming weeks.
A back-to-back TG4 All-Ireland Senior Football Championship winner with her county in 2021 and 2022, O'Sullivan also claimed the Lidl National Football League Division 2 and Division 1 titles in those respective years. Before that, she also helped the Royal County to secure the TG4 All-Ireland Intermediate Championship crown at a Croke Park that was devoid of supporters in December 2020.
A little over three months earlier, O'Sullivan struck six points as Royal Gaels defeated Dee Rangers on a score of 2-19 to 3-6 to earn Meath ladies intermediate championship honours. Much like with the county side, the 2021 TG4 All Star has enjoyed a strong transition back into the senior grade at club level as the Gaels reached the top-tier championship decider in 2022 – losing out in the end to defending champions Dunboyne by just three points.
Yet they have registered victories against Skryne and Simonstown thus far in the 2023 edition of the local SFC and with Meath's bid for a third successive Brendan Martin Cup ending in a quarter-final reversal to Kerry, she is aiming to go a step further with the Dunshaughlin Royal Gaels side this time around.
"We've won previous intermediate championships in Meath and we've always only managed to stay up a year in senior. In the second year in senior, we always would have gotten relegated. When we won the intermediate last [in 2020], we knew going up to senior that we wanted to be going up and competing, and staying at senior," O'Sullivan said.
"We want to be competing at senior level, we want to be competing at semi-finals, finals. We were very disappointed with last year, how the result went. Considering we probably should have had a few more scores on the board, but that's sport. We're raring to go this year and I know we're looking to go one step further this year. Hopefully it goes our way."
While there isn't as much at stake as their final meeting last October, Royal Gaels will renew acquaintances with Dunboyne in their final Group A game of this year's senior championship in Dunshaughlin later on today (throw-in 6pm). Both teams are already guaranteed a place in the knockout rounds, but top spot and an automatic semi-final slot are the prizes on offer for the winner of the tie.
The loser of the game – if there is to be one – will claim runners-up in Group A, which means they will have to negotiate a quarter-final fixture before potentially making it into the last-four.
"It really all leads down to this weekend against Dunboyne, our good oul friends from Dunboyne! We're looking forward to it. We know who they have on their team. They've the likes of Emma Duggan, Shelly Melia and Sarah Wall in the back line there. It won't be an easy task, but confidence is good in the camp in Dunshaughlin.
"Training is going well and we're looking forward to the test on Saturday. I think it makes it a lot easier on us, the fact that we've a home game. That will hopefully help us get over the line, but it certainly won't be easy. That's for sure."
When O'Sullivan and her Meath colleagues return to inter-county duty in 2024, they will find themselves playing under a new manager. A former goalkeeper with his native county of Kildare, Shane McCormack was recently recommended as the Royal County boss a few short weeks after stepping down as Armagh senior supremo.
Having worked alongside Ronan Murphy for two years as a selector, McCormack took over the Armagh reins for the 2023 season and guided them towards the Lidl NFL Division 2 crown.
"I haven't really thought about Meath just yet. I'm sure Shane is going to be onto us to meet up and I'm sure he's going to be coming to a lot of the club games over the next few weeks and linking in with us. It's exciting times and he does have great experience. He was involved with Armagh as a selector and then obviously as a manager last year," the primary school teacher acknowledged.
"They won Division Two last year and they were unlucky to lose out in the Ulster final against Donegal, and they were unlucky in the All-Ireland series as well. He's a young man as well. He'll bring his ideas to the table and it will be an exciting period for Meath as well. Just for myself, I'm very much focused on club football at the moment."
Even though she worked with both Davy Nelson and Jenny Rispin (in an interim capacity) last year, most of the football O'Sullivan has played for Meath in recent years has been under the management of Eamonn Murray.
Having steered them to the aforementioned quintet of trophies from 2020 to 2022, Murray opted to step away from the Royal job in August of last year. 2024 will see him making a return to the sideline, however, as he was named as an assistant manager within Raymond Galligan's impressively-assembled backroom team for the Cavan men's footballers.
Given he hails from the Breffni County, this was an opportunity that was always going to entice Murray. Thanks to the strong connection that still exists between the Gowna man and the Meath players from his time in charge of the squad, there will be plenty of interested onlookers for Cavan's games within his adopted homeland.
"He's a very, very proud Cavan man and it's fantastic to see him back involved in football. Whether it was with the men's or the ladies. It will be exciting and we wish Eamonn all the very best with Cavan," added O'Sullivan, who made her Meath senior debut in 2008.
"We have fond memories with Eamonn and he'll always be a part of the Meath set-up. He's done a lot of good things for Meath ladies over the years and we all were very thankful that he came on board. Especially at a time in need for Meath ladies, when things weren't going so well. Delighted for him and I wish him all the best."
Most Read Stories