Down and Kildare lead the way on 2023 Teams of the TG4 Junior and Intermediate Championships
September 11, 2023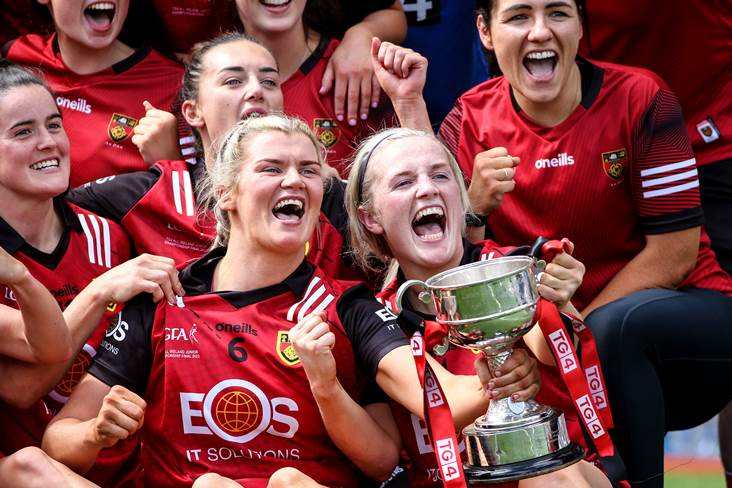 Down players celebrate with the All-Ireland JFC trophy after the final ©INPHO/Leah Scholes
Champions Down and Kildare lead the way in the 2023 TG4 Teams of the Junior and Intermediate Championships selections.
These selections honour outstanding individual displays throughout the 2023 TG4 All-Ireland Championships in the Junior and Intermediate grades – with the winners set to receive their awards at a Croke Park function on Friday November 3.
Kildare were crowned TG4 All-Ireland Intermediate Champions on August 13, following victory in the Final over Clare, while the Junior silverware went to Down, who saw off the challenge of Limerick.
The Teams of the Championship have now been selected by members of the LGFA's All Star committee – with Kildare claiming six slots on the Intermediate team, while Down have seven players on the Junior 15.
The six Kildare winners are goalkeeper Mary Hulgraine, defenders Lauren Burke and Laoise Lenehan, midfielder and captain, Grace Clifford, and forwards Neasa Dooley and Róisín Byrne, who was Player of the Match in the All-Ireland Final.
Runners-up Clare have four players included in the Team of the Championship, namely full-back Síofra Ní Chonaill, captain Caoimhe Harvey, who's at centre back, midfielder Chloe Moloney and forward star Fidelma Marrinan, who claimed the ZuCar Golden Boot award as the leading scorer in the 2023 TG4 All-Ireland Championships.
Antrim, who reached the All-Ireland Intermediate semi-finals at the first attempt, have three players named on the team.
Left-half-back Sarah O'Neill and forwards Lara Dahunsi and Orlaith Prenter have been rewarded for their efforts with the Saffrons during a memorable campaign.
There are also two Wexford players named on the Intermediate team, with captain Róisín Murphy in defence and attacker Chloe Fox acknowledged for consistent displays as the Model County reached the last four.
On the TG4 Junior Team of the Championship, winners Down are represented by goalkeeper Amy McGivern, Orla Boyle in the full-back line, captain Meghan Doherty at centre back, Final player of the match Orla Duffy at left half back, Aoife Laverty at midfield, and Laoise Duffy (sister of Orla) and Natasha Ferris in attack.
Limerick's exploits in reaching the Final are rewarded by the inclusions of defenders and sisters Yvonne and Grace Lee in defence, captain Róisín Ambrose at midfield, and forwards Deborah Murphy and Karen O'Leary.
Fermanagh, beaten by Limerick in the semi-final, have full-back Molly McGloin and forward Bláithín Bogue named on the Junior Team of the Championship, while there is also a slot for Carlow forward Sara Doyle.
It has also been confirmed that the 2023 TG4 All Star banquet will be held at Dublin's Bonnington Hotel on Saturday, November 18.
The list of 45 nominees will be revealed later this month.
TG4 Intermediate Team of the Championship
Mary Hulgraine – Kildare
Lauren Burke – Kildare
Síofra Ní Chonaill – Clare
Laoise Lenehan – Kildare
Róisín Murphy – Wexford
Caoimhe Harvey – Clare
Sarah O'Neill – Antrim
Grace Clifford – Kildare
Chloe Moloney – Clare
Neasa Dooley – Kildare
Fidelma Marrinan – Clare
Lara Dahunsi – Antrim
Chloe Foxe – Wexford
Róisín Byrne – Kildare
Orlaith Prenter – Antrim
County by county breakdown: Kildare 6, Clare 4, Antrim 3, Wexford 2.
TG4 Junior Team of the Championship
Amy McGivern – Down
Yvonne Lee – Limerick
Molly McGloin – Fermanagh
Orla Boyle – Down
Grace Lee – Limerick
Meghan Doherty – Down
Orla Duffy – Down
Róisín Ambrose – Limerick
Aoife Laverty – Down
Deborah Murphy – Limerick
Sara Doyle – Carlow
Laoise Duffy – Down
Bláithín Bogue – Fermanagh
Natasha Ferris – Down
Karen O'Leary – Limerick
County by county breakdown: Down 7, Limerick 5, Fermanagh 2, Carlow 1.
Most Read Stories