Integration Group to consult with every county board
March 28, 2023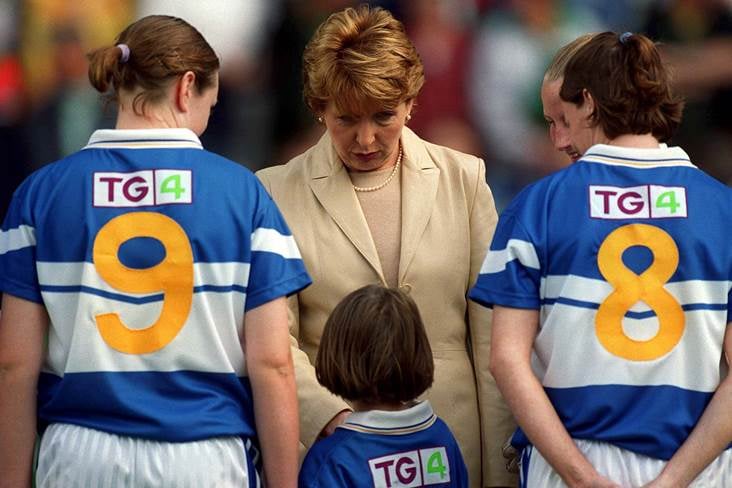 Seven-year old mascot Mo Nerney meets President Mary McAleese prior to the 2001 TG4 All-Ireland final between Laois and Mayo at Croke Park. ©Aoife Rice/Sportsfile
The Steering Group on Integration (SGI) of the Camogie Association, the Gaelic Athletic Association, and the Ladies Gaelic Football Association, has announced its intention to seek submissions from every county board across all three Associations as part of its on-going engagement and listening process.
The SGI will also conduct a series of formal meetings with a number of county boards from across the three Associations.
Starting in early May, this next major phase of the listening process will build on the encouraging progress which has been reported by the SGI, and which is chaired by Iar-Uachtarán na hÉireann, Mary McAleese.
The SGI has reported positive levels of engagement and feedback from meetings held to date with existing One Clubs, Provincial Councils, Ard Comhairles, and also representatives of players from all three Associations.
President McAleese also spoke via video link to the annual congress of the GAA and the LGFA in recent weeks and was encouraged by the reception received and will speak at the upcoming Camogie Association congress also. Workshops were also held at the congresses, and they provided very useful insights on the 'how' of integration.
The discussions which have taken place have helped identify challenges on the path to integration. However, they have also made clear the overwhelming benefits of the move towards integration.
The issue of equality has been prominent in the discussions to date and so too, has the potential commercial benefit for Gaelic games being represented as an integrated body that can maximise benefits and opportunities for all of its members.
The SGI is made up of the three Uachtaráins (Hilda Breslin CA, Larry McCarthy GAA and Mícheál Naughton LGFA), the three Ard Stiúrthóirí (Sinéad McNulty CA, Tom Ryan GAA and Helen O Rourke LGFA), Mary McAleese as Chair and project managed by Mark Dorman.
Members of all three organisations will continue to be kept informed of progress.
Most Read Stories