Kenny leads DCU to O'Connor Cup glory
March 11, 2023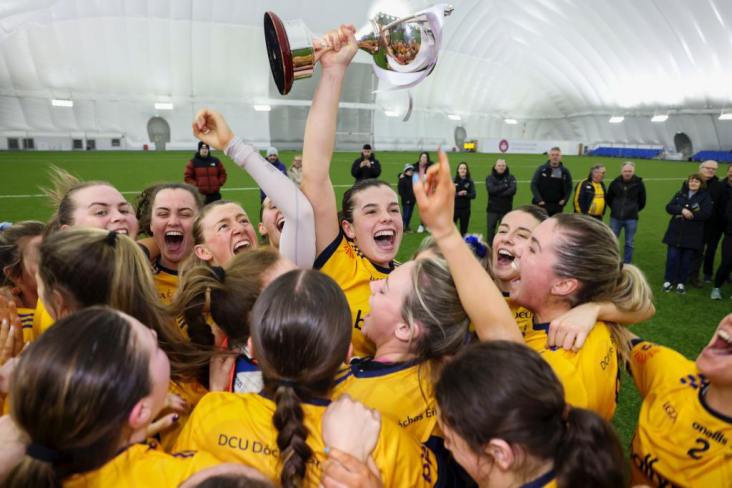 DCU's players celebrate with the O'Connor Cup after their final victory over UL. Pic credit: @DCUDocEirGAA
Kate Kenny struck for 1-10 as DCU overcame University of Limerick by 3-14 to 1-13 to claim a first O'Connor Cup success in five years.
Played at University of Galway Connacht GAA Air Dome, this decider saw the Dublin students starting in terrific fashion with a long range from Kenny hitting the roof of the UL net after just 25 seconds.
The would-be winners built up a 1-3 to nothing lead from there prior to Aoife Hurley palming in a much needed goal for the Limerick side and, having moved into the lead briefly, the holders would close the gap down to just one (1-8 to 1-7) come half-time.
Orla Nevin and Kenny sailed over points that git DCU motoring again early in the restart and Offaly ace Kenny would set-up Tara Needham with the perfect pass for their second goal.
Aoife O'Rourke and Siofra O'Shea shot over points in response but Ciara Banville's goal was another hammer blow to UL and two superb point via Kenny would ensured them a fifth O'Connor Cup triumph.
Most Read Stories