"Not for me right now" - Dublin's Tyrrell reveals she was contacted about AFLW move
August 04, 2022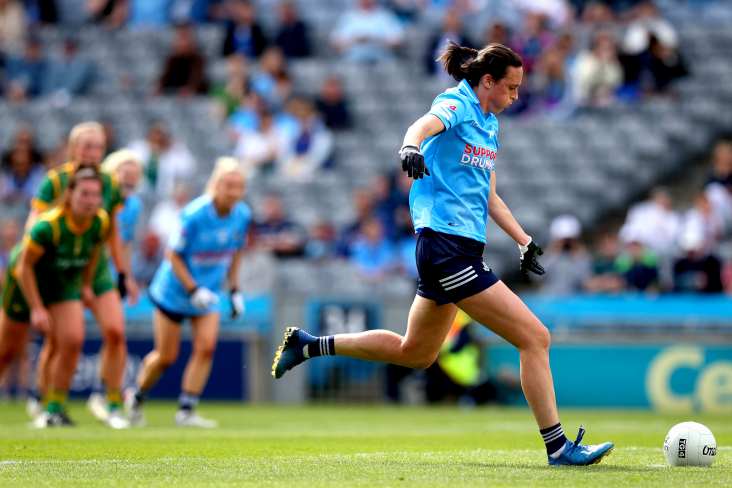 Dublin's Hannah Tyrell scores a penalty against Meath in the Leinster SFC final ©INPHO/Ryan Byrne
Dublin ladies star Hannah Tyrrell has revealed that she received interest from AFLW clubs in the past but doesn't think she'll "ever get into" Aussie Rules as a sport.
Meath ace Vikki Wall is the latest high-profile player set for a departure to Australia as she flies out tomorrow (Friday) to link up with North Melbourne – just five days after helping the Royals to their second consecutive All-Ireland senior football title.
Speaking to Sky Sports GAA, Tyrrell, who is a former Ireland rugby out-half, says she was contacted in the past but says its not for her right now.
"I would have been contacted, kind of telling me that there was a bit of an interest there for me. But I suppose I've a lot going on and a lot of commitment," she stated.
"A couple of years ago actually, we were over at a tournament in Sydney for the Irish 7s team. Cora Staunton actually gave me and Louise Galvin and a couple of other girls on the team a tour of the [Greater Western Sydney Giants] facility and allowed us to have a kick-around. That's the closest I've got so far to be honest.
"I don't think I'll ever get into it. If I had have been a couple of years younger, it might have been something that [would have] happened for me. But I think it's something that has passed me now. Who knows what will happen in the future? I'd love to give it a kick-about and see what it's like. But I don't know if I'd ever actually play it.
"Look, what's happening over there is brilliant. The opportunities that are there and available to play is incredible...but not for me right now anyway."
Most Read Stories