'There's no point having a player who wants to play somewhere else'
August 01, 2022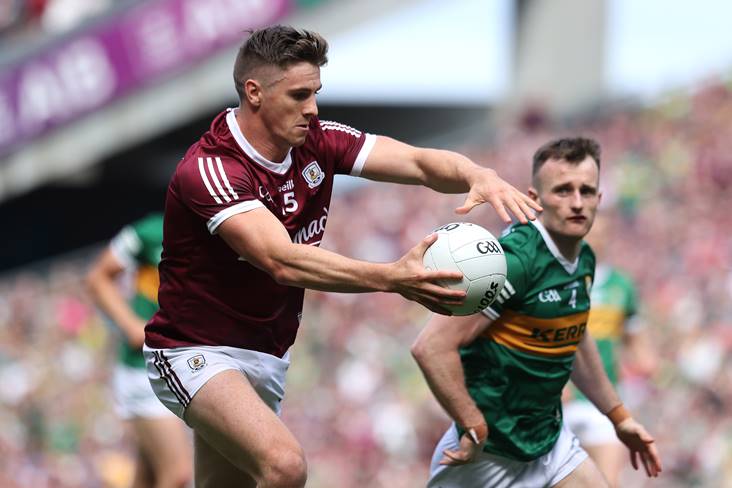 Galway's Shane Walsh and Tom O'Sullivan of Kerry. ©INPHO/Bryan Keane.
Former Mayo attacker Conor Mortimer reckons Shane Walsh's proposed transfer to Kilmacud Crokes will get 'very messy' if Kilkerrin-Clonberne try to resist it.
Mortimer left Shrule/Glencorrib to join another Dublin club, Parnells, a decade ago for work reasons, and can understand why the Dublin-based Walsh would want to move.
"Going on what the chairman (Ian Hynes) said, I don't think that's the most beneficial way to go," Mortimer said on RTÉ Radio One's Sunday Sport.
"There's no point having a player who wants to play somewhere else. Besides trying to force his hand to keep him in his club...
"I can understand their situation. I didn't have that with my club when I left. There was more work in Dublin than there was in the West at that time for me. I had no problems with my club.
"It can go one of two ways: Amicably or it can get very, very messy. They are the only two ways out of it. It's so public now, and the chairman has said what he's said, I don't think that's going to reflect well on the club in the long run.
"If Shane Walsh wants to move, inevitably he will get his move regardless of how the club do it. Technically, they can block it.
"You're probably not going to have the player playing for you. Is that the end goal for the chairman, to not have Shane Walsh playing club football? That would a travesty to Shane, and people around the country who want to see his calibre on the football pretty regularly."
Mortimer added: "I did it myself for 10 years, travelling up and down. And it takes a toll on the body. It's very tough. It might be a Sunday morning game, and you're at home on a Saturday evening in Dublin, and know you have to drive down on a Sunday to play the game, and then drive back. It takes up a lot of your time, and a lot of your life."
Most Read Stories