TG4 All-Ireland final previews: Scene set for mouth-watering triple-header at Croker
July 29, 2022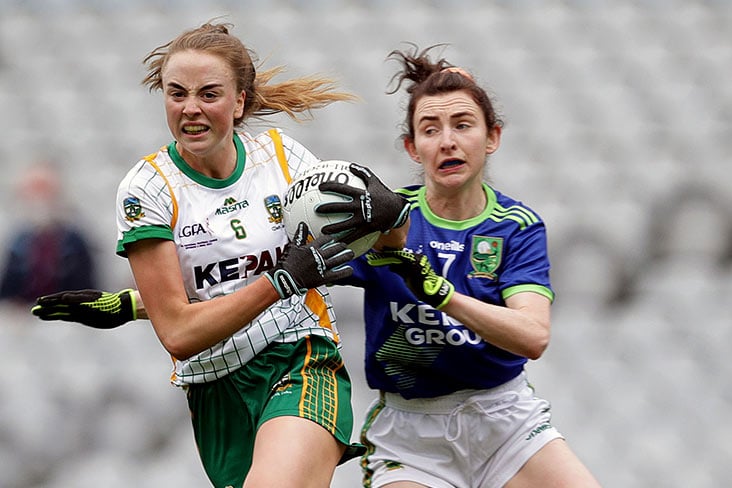 Meath's Aoibhín Cleary and Cáit Lynch of Kerry
Compiled by Jackie Cahill
THE 2022 TG4 All-Ireland Ladies Football champions will be crowned at Croke Park on Sunday.
The scene is set for a mouth-watering triple-header and the action will get underway with an Ulster derby between Antrim and Fermanagh in the Junior Final at 11.45am.
That's followed by 1.45pm by the all-Leinster Intermediate Final, featuring Laois and Wexford.
At 4pm, the Senior Final pits Meath, the holders, against Kerry, aiming for a first Senior crown since 1993.
All of Sunday's coverage will be available to audiences globally on the TG4 Player at www.tg4.ie/beo and on the TG4 Mobile and Smart TV App.
TG4 All-Ireland Junior Championship Final – Antrim v Fermanagh (11.45am) – Live on TG4
ANTRIM were left heartbroken by last September's TG4 All-Ireland Junior Final defeat to Wicklow.
The Saffrons were outgunned on the scoreboard but they'll rue a first half display that saw them 0-3 to 0-10 adrift at half-time.
Antrim had given themselves too much to do and while their second half display was spirited, it was in vain as Wicklow lifted the West County Hotel Cup.
It's not often in sport that opportunities to right wrongs present themselves so quickly but Antrim's chance has arrived on Sunday.
They face Fermanagh in a first all-Ulster TG4 All-Ireland Junior Final since 2017 – when Fermanagh tasted victory after a replay against Derry.
This will be the fourth time this year that Antrim and Fermanagh have met in a competitive fixture – with the score currently 2-1 in Antrim's favour.
Fermanagh were victors in Division 4 of the Lidl National League but Antrim won twice when the sides met in the Ulster Championship.
On paper, there's little to separate them and the motivation for both is great.
Antrim will want to erase the memories of the 2021 Final while Fermanagh, champions last in 2020, will look to claim a second Junior crown in three seasons.
Relegation from the Intermediate grade in 2021 was a setback for the Erne County but manager James Daly, despite a number of early-season defections, has steadied the ship and Fermanagh are potentially just an hour away from making the step up again.
In terms of overall progression and where these two counties want to go, promotion is a key target.
Antrim and Fermanagh will both feel they're capable of making an impact in the Intermediate grade but to do that, they have to get there first.
An Ulster derby will bring added spice to Croke Park today and while Daly boasts so much inter-county experience as a manager, Antrim have shrewd operators on the touchline also.
In manager Emma Kelly, and coach Kyla Trainor (Down), Antrim have players who won All-Ireland medals as players.
Curiously, both counties go in search of a third TG4 All-Ireland Junior title on Sunday.
Antrim were winners previously in 2012 and 2009, while Fermanagh won the crown in 2020 and 2017.
In the TG4 All-Ireland Junior Championship's leading scorer, Eimear Smyth, Fermanagh have a player with 4-17 to her name.
Fermanagh will look to her scoring prowess again but Blaithin Bogue (2-4) and Laura Grew (3-0) are among the other players who have contributed to the cause.
For Antrim, Maria O'Neill is their leading scorer with 5-3 but Orlaith Prenter (1-12), Grainne McLaughlin (0-9), captain Cathy Carey (0-8) and Lara Dahunsi (1-5) have also been in good form.
McLaughlin, with 1-5, was a force of nature in defeat for Antrim against Wicklow last year and she'll hope for another big game display but there's a feeling now that there are more players around her capable of delivering, too.
Having come through their respective groups, Fermanagh turned up the heat with a 7-9 to 3-12 semi-final victory over Limerick. Smyth was on fire in that game, notching 3-7 as Fermanagh advanced to another final.
On the other side of the draw, Antrim were taking care of business against Carlow, running out comprehensive 3-18 to 0-13 winners.
And so, it now boils down to two teams who know each other so well.
Familiarity may not exactly breed contempt but where Antrim and Fermanagh are concerned, it breeds a healthy rivalry and respect for each other.
Both know where the opposition can hurt them but, equally, they also know where and how they can strike at the opposite end of the pitch. A fascinating battle lies in store – and you couldn't rule out the prospect of a replay here.
Fermanagh are unchanged for this one, as Antrim bring in Sarah O'Neill for Megan McGarry in defence.
Antrim (v Fermanagh): A McCann; D Coleman, A McFarland, N McIntosh; M Mulholland, S Tennyson, S O'Neill; L Dahunsi, Á Tubridy; C Taggart, C Carey (capt.), M O'Neill; B Devlin, O Prenter, G McLaughlin.
Fermanagh (v Antrim): R Gleeson; E Keenan, M McGloin (capt.), S McQuade; N McManus, S McCarville, C Bogue; B Bannon, A O'Brien; E Maguire, B Bogue, S Britton; C McElroy, E Smyth, L Grew.
TG4 All-Ireland Intermediate Championship Final – Laois v Wexford (1.45pm) – Live on TG4
REDEMPTION day for Wexford – or Laois to inflict more misery on the Slaneysiders?
Sunday's TG4 All-Ireland Intermediate Final at Croke Park will provide the answers – with both teams unchanged from their semi-final victories.
Wexford will feel they've probably suffered enough in recent times – and their desire and motivation to land the Mary Quinn Memorial Cup will be huge.
They left Croke Park shell-shocked last September, on the wrong end of a 0-6 to 4-19 defeat at the hands of rampant Westmeath.
They stuck together but losing the Lidl National League Division 3 Final against Roscommon in April hurt – and they suffered another Final loss to Kildare in the TG4 Leinster Championship.
But Wexford did get the better of Sunday's opponents in the provincial semi-final, a thrilling game that went to extra-time before Wexford prevailed by 4-16 to 4-14.
If the two teams produce something similar on Sunday afternoon, we're in for a treat at Croke Park but either side would take a scruffy game and performance if they were told it would guarantee silverware.
Junior champions in 2014, Wexford have never won the Intermediate title, although they did contest Finals in 2021, 2007 and 1999.
For Laois, remarkably, this is a first appearance in an All-Ireland Final since a famous Senior victory over Mayo in 2001.
They have won the Intermediate title before, too, back in 2000 when they defeated Cork in the Final.
Taking all of that into consideration, there's history in the making for either side on Sunday.
The winners will take home the silverware but they'll also join Dublin and Meath as Leinster's representatives in the 2023 Senior Championship.
Indeed, it's the third successive year where two Leinster teams will battle it out for the Intermediate title. Meath beat Westmeath in 2020, before Westmeath overcame Wexford last year.
Wexford, who beat Laois in the 2021 All-Ireland semi-final, will now hope their time has come but there are absolutely no guarantees in a tie that pits two excellent teams against each other.
Both, notably, have beaten Tyrone in Championship 2022. Tyrone would have been considered a leading title contender after dropping down from Senior last year but Laois beat them in a group game that featured one of the goals of the year from Erone Fitzpatrick, as her mazy run was capped by a spectacular finish.
At the quarter-final stage, Wexford ended Tyrone's win with a victory that blew the Championship race wide open.
Not content with that, Wexford turned the tables on Roscommon, notching 6-11 against their opponents from the West, with Aisling Murphy scoring four goals during the course of a superb individual display.
On the other side of the draw, Laois were taken to extra-time by Clare in a fabulous game.
When the dust settled, Laois were on the right side of the 2-21 result, with the TG4 Championship's leading scorer, Mo Nerney, contributing an incredible 1-14.
Both of Sunday's finalists possess magnificent individual players but, as collectives, they're incredibly tight and united units.
The respective management teams have infused a real sense of togetherness in each of their groups and Sunday's winners will have earned it when the final hooter sounds.
An interesting side note is the battle between Nerney and Murphy for the ZuCar Golden Boot, which will be awarded to the leading scorer in the 2022 TG4 All-Ireland Championships.
Nerney is currently leading on 4-26 (38 points), with Murphy on 8-10 (34).
Kerry's Louise Ní Mhuircheartaigh, who plays in the Senior Final, is next in line on 3-22 (31 points), closely followed by Eimear Smyth from Fermanagh on 4-17 (29 points).
Laois (v Wexford): M.R. Kelly; S Harding Kenny, A Halligan, S Murphy; O Kehoe, R Murphy (capt.), C Donnelly; K Kearney, C Banville; S Hamilton, C Murray, E O'Brien; B Breen, A Murphy, A Wilson.
Wexford (v Laois): E Barry; C Dunne, A Donoher, A Kelly (capt.); R Williams, E Healy, A Potts; A Healy, J Moore; E Galvin, L.M. Maher, E Fitzpatrick; M Nerney, E Lawlor, S.A. Fitzgerald.
TG4 All-Ireland Senior Championship Final – Kerry v Meath (4pm) - Live on TG4
MEATH for the second successive year – or a 12th title for Kerry?
All will be revealed Croke Park in today's TG4 All-Ireland Ladies Senior Football Final, with both teams unchanged from their semi-final starting line-outs.
For the first time since 2009, when Kerry won by 2-19 to 0-10 in a knockout tie, the two counties will lock horns in a Senior Championship tie.
There is recent Croke Park history, however, as Meath defeated Kerry in the 2021 Lidl National League Division 2 Final at GAA HQ.
Meath, as Division 2 champions, went on to claim the TG4 All-Ireland Senior title in sensational fashion.
Less than a calendar year after landing the Intermediate crown, Meath stormed to Senior glory, defeating Dublin to deny the Sky Blues five-in-a-row.
Meath are also Lidl National League Division 1 champions now but Kerry are the Division 2 holders, having seen off Armagh at Croke Park in April.
It's the clash of the League champions on the biggest day of the year – and only one can prevail.
Remarkably, this is a fifth successive All-Ireland Final appearance for Meath. They contested three successive Intermediate deciders, finally cracking the code in 2020 against Westmeath, and are now back for a second Senior Final in a row.
For Kerry, this is a first All-Ireland Senior Final since 2012 and if they can complete the job they've started, the Kingdom will be crowned champions for a record 12th time.
Kerry and Munster rivals Cork currently sit level at the top of the all-time roll of honour with 11 wins each – but Kerry haven't tasted glory since way back in 1993.
In terms of novelty factor, this Final certainly has it. You have to go all the way back to 2002, when Mayo defeated Monaghan, for the last time that a Final didn't feature either Cork or Dublin.
The presence of Meath, Donegal, Kerry and Mayo in the last four brought a 'wide open' feel to the conclusion of the Championship.
Now that Kerry and Meath are here, they'll be looking to their proven matchwinners to produce the goods.
These are also two sides that have bounced back from provincial Final heartbreak to successfully navigate their way to the All-Ireland decider.
Meath lost out to Dublin in the Leinster Final, as Cork got the better of Kerry.
Since then, Meath and Kerry are both undefeated. In Louise Ní Mhuircheartaigh, Kerry have the leading scorer in the TG4 All-Ireland Senior Championship. Four games for the Corca Dhuibhne wizard have produced 3-22, a total of 31 points and that's 13 clear of Meath's leading scorer, Stacey Grimes, who's collected 0-18.
Emma Duggan's total of 1-11 to date for Meath shouldn't be underestimated either. That late, late winner in the quarter-final against Galway will live long in the memory, and she was sensational in the semi-final victory over Donegal, scoring four points and earning the Player of the Match award. In clutch moments, Duggan's a clutch player.
There's been a feeling that Meath have been doing just enough in their recent games but there's a resilience about them and when their backs are against the wall, they don't do panic.
Kerry won't fear them, though, because they know what Meath did to Dublin last year, when the Royals went into the Final as underdogs. If Meath could do that in 2021, Kerry will surely feel 'why not us?'
Kerry have come through some big games to get here. Galway, Armagh and Mayo are notable scalps but Meath is the acid test.
The 2021 Lidl Division 2 Final ended with ten points separating the sides but both teams have moved on considerably since then – and are better teams now.
Croke Park on TG4 All-Ireland Final day is the perfect platform to prove that.
Kerry (v Meath): C Butler; J O'Sullivan, K Cronin, E Lynch; A O'Connell, A Costello, C Murphy; L Scanlon, C Lynch; N Carmody, S O'Shea, A Galvin (capt.); P McCarthy, D O'Leary, L Ní Mhuircheartaigh.
Meath (v Kerry): M McGuirk; S Ennis (capt.), M.K. Lynch, K Newe; A Leahy, E Troy, A Cleary; M O'Shaughnessy, O Lally; M Thynne, E Duggan, K Nesbitt; V Wall, S Grimes, N O'Sullivan.
Most Read Stories