"It was certainly wrong of us" - Fenton on Dubs' training breach
November 19, 2021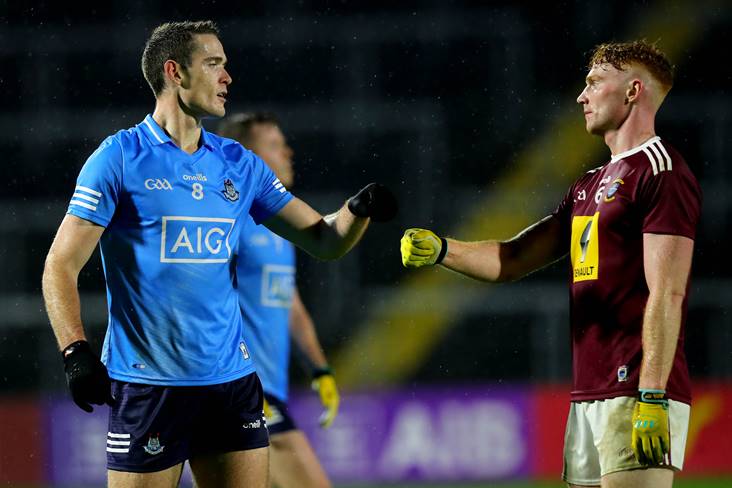 Dublin's Brian Fenton with Ronan Wallace of Westmeath. ©INPHO/Ryan Byrne.
Brian Fenton says it was "completely wrong" for members of the Dublin squad to breach Covid-19 guidelines earlier this year by taking part in a training session.
Back in March, Fenton and some of his team-mates made headlines after having trained together at Innisfails GAA club, after which manager Dessie Farrell would receive a 12-week suspension as punishment.
Speaking at the launch of the new Avonmore Pro-Oats product, Fenton said the backlash that followed was a sobering experience.
"It was amazing the hype around it," said the two-time Footballer of the Year. "At the time I was like, 'Jesus, this is completely blown out of proportion'. That was my own inner narrative. In retrospect we were completely wrong with the way the country was, and the cases were at the time. It was certainly wrong of us. We felt the effects of that with Dessie's suspension.
"Just at the time I couldn't believe the attention it got. I always give this example: I was training that morning in Inisfails and the whole idea of outdoors and the safety of that. Later that morning, I was at a funeral. We did a guard of honour outside our club for a member who had passed away. I met more people on the road at the guard of honour than I had the morning of training.
"But, in retrospect, we were wrong. The role models we set ourselves and the example we like to set, I think we admitted that at the time.
"It was new to me in terms of the exposure – the tweets, the negativity it caused. And we're very, very sorry for that."
Most Read Stories