The greatest GAA saga began on this day 30 years ago
June 02, 2021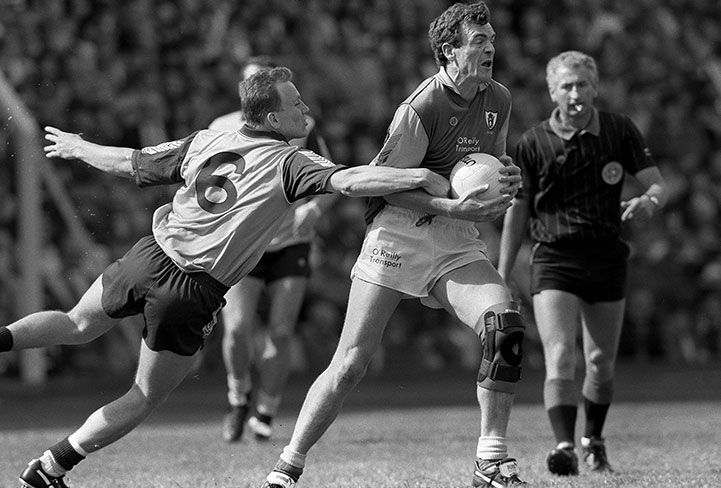 Keith Barr of Dublin with Meath's Colm O'Rourke during the 1st of that famous 4 game daga at Croke Park
It was a game that captured the imagination of the GAA world and further afield. The Meath - Dublin saga began on this day 30 years ago. It took a massive four games and two periods of extra times to separate these neighbours. Meath would eventually play ten games and a total of 760 minutes football throughout that glorious summer.
Here's an extract from Royal County Meath Yearbook about that opening encounter.
"The build up for the first encounter with Dublin was unprecedented for a first round match. The media dubbed it the 'Clash of Titans' while expressing grave doubts about the holders ability to last the pace.
Dublin were the favourites boosted by victory in the league, they were younger, hungrier and ultra determined under their new manager Paddy Cullen.
Meath on the other hand, while not exactly 'no-hopers' had 'too many miles on the clock' and many felt that after their defeat to Cork in the 1990 All Ireland final the team was going downhill fast.
A record crowd, 51,144 turned up to see the confrontation and with Charlie Redmond in devasting form, Dublin led by 1-7 to 1-2 at half time. The goals came from Mick Galvin and a Brian Stafford penalty.
The tackling was tough, six players were booked, four from Meath and two from Dublin. And while Colm O'Rourke and David Beggy excelled in the opening thirty minutes it was the display of captain Liam Hayes, in the second half which contributed to Meath's survival.
He played his role to perfection, fielding brilliantly and running at the Dublin defence with admirable determination and resolve. But still his team trailed as time ticked away. However dogged persistence eventually paid off when David Beggy, in typical fashion, dispossessed the otherwise immaculate Mick Deegan to set up PJ Gillic for a late, late equaliser. His effort could just as easily went to the net but relief was the overwhelming emotion evident among the Meath supporters when Tommy Howard blew the final whistle. Meath 1-12 Dublin 1-12".
The Meath team and scorers was: Michael McQuillan, Robbie O'Malley, Mick Lyons, Terry Ferguson, Kevin Foley, Liam Harnan, Martin O'Connell, Liam Hayes, PJ Gillic 0-2, David Beggy, Colm O'Rourke, Sean Kelly, Brian Stafford 1-5, Tommy Dowd 0-2, Bernard Flynn 0-3. Sub: Colm Coyle for Martin O'Connell.
Dublin scorers: Charlie Redmond 0-7, Mick Galvin 1-0, Paul Curran 0-2, Tommy Carr 0-1, Jack Sheedy 0-1, Vinny Murphy 0-1.
The replay was fixed for the following Sunday.
Most Read Stories