Dunphy and Loughnane differ over Brolly's 'Sunday Game' demotion
September 11, 2019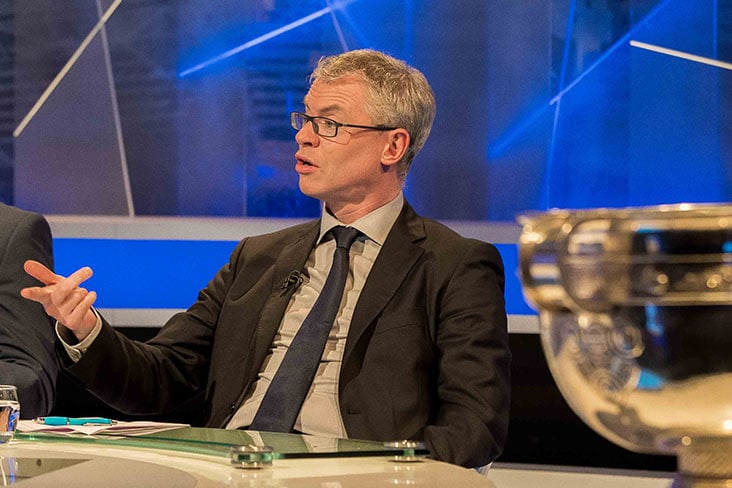 Joe Brolly
RTE's decision to drop Joe Brolly from its coverage of Saturday's All-Ireland SFC final replay has been sharply criticised by Eamon Dunphy.
The national broadcaster announced yesterday that the outspoken 1993 Derry All-Ireland winner has been replaced by former Mayo manager and current Donegal coach Stephen Rochford for the Dublin v Kerry replay and, writing in today's Irish Daily Star, former controversial soccer pundit Dunphy revealed: "Prior to the Euro 2016 finals in France when I was a member of the RTE analysis team I was encouraged to 'lay off' Martin O'Neill and Roy Keane.
"That was, and still is, quite improper and the idea that a panellist should not give their honest opinion of what is going on is dishonest for the viewer.
"The softening up the content of analysts is a trend that was in train before I left RTE last year and was one of the reasons why I exited the station after more than three decades working there.
"Once a network goes down that road then it is not being faithful to the customer and viewer any longer.
"And it's the viewers across the country who are the ones who lose out most. Never, ever forget that they pay the largest part of RTE's annual income through the licence fee."
Dunphy described Brolly as "tough and shrewd in his reading of a game, its players and managers and never afraid to express what he thinks" and added: "if Brolly is lost to RTE's GAA coverage then it's a blow to its coverage."
Meanwhile, also writing in the Irish Daily Star, Ger Loughnane thinks RTE have made the right call: "Not having Brolly on the panel on Saturday will be a blow to RTE, but I think it's the right decision.
"If I was in their position, I'd make the same call. It doesn't mean Joe's career as a pundit is over."
The All-Ireland winning Clare manager concluded: "In a way the fallout from his comments about David Gough's perofrmance in the drawn game might be the best lesson he ever learns. RTE would be perfectly justified in not having him on.
"Knowing the people in RTE, they would be very loyal to Joe, and they will want him to learn from this and become the great pundit that he is capable of being - with that extra bit of discipline."
Most Read Stories