Sweeney: we're going to have to be at our best
November 17, 2020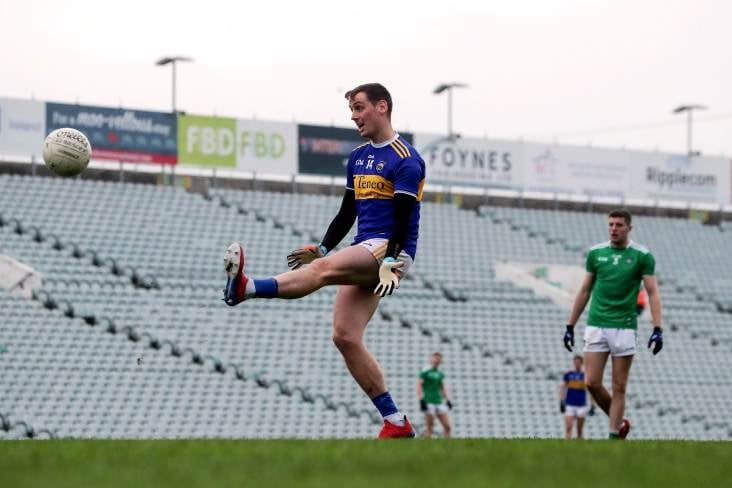 Tipperary captain Conor Sweeney landed a sensational late free to force extra time at the LIT Gaelic Grounds
Tipperary go into Sunday's Munster SFC final showdown with Cork as underdogs but captain Conor Sweeney and his team-mates know they are more than capable of upsetting the odds.
The Premier County have crossed sword with the Rebels on numerous occasions in the recent past and, speaking to GAA.ie, Sweeney commented: "No matter who won (between Cork and Kerry) it was always going to be a tough battle for us.
"We were probably always going to be underdogs which is fine, we're okay with that.
"We've played each other most years be it League or Championship. And bar one when they beat us by seven or eight points a couple of years ago in the Championship in Thurles, it's been a point either way.
"I think we're fairly evenly matched, to be quite honest, so it should prove for a good game. A close one anyway, hopefully.
"I just think the fact we've been playing Cork more regularly, we've been in the same league divisions as them in recent years so I think you'd take a little bit of confidence from that knowing we can compete with them.
"We're going to have to be at our best, there's no doubt about it, and an under-par performance like the first 35 minutes the last day (against Limerick) just won't do. That's the bottom line. That happens us too much.
"We tend to underperform for periods of matches and we're going to get caught out at some stage. If we're to compete with Cork we're going to have to be on it from the word go and nothing less than a great performance will do."
Most Read Stories