Kilcormac/Killoughey Camogie Notes
September 24, 2023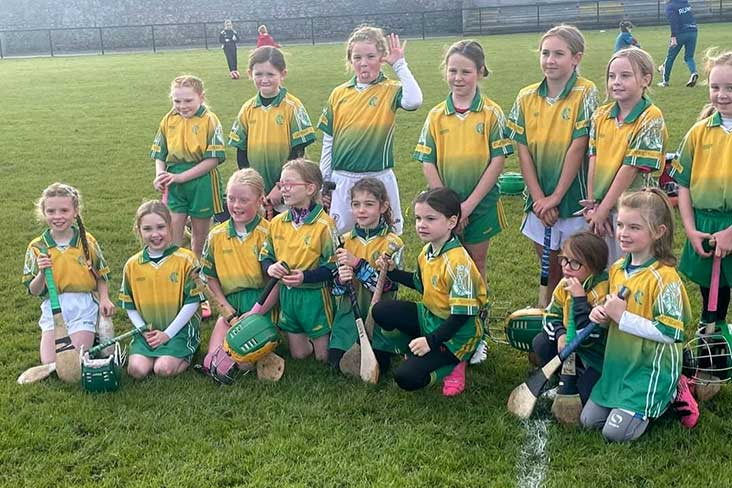 The Kilcormac Killoughey Under 9 Blitz team
Under 13 League:
Hard luck to our U13 team who lost out to Shinrone in their semi-final in Shinrone on Wednesday. The girls fought hard but fell just short. Well done to the girls on a great year of camogie!
Under 9 Blitz:
Well done to our U9 team in their final blitz of the year on Saturday! The girls showed great skills both on Saturday and throughout the year!
Under 16A Final:
Our U16s were out competing in the U16A Final on Saturday in Rath against St. Cillian's.
St. Cillian's were first out the blocks with a point from play before K/K full forward Aideen Quinn responded with a goal after a pass from the corner from Ella Kelly. Aideen Quinn dominated the full forward line with a point and another goal in the first 10 minutes. A long range free from centre back Áine Rigney was batted in by Ella Kelly with Aideen Quinn scooping it up to pop over the bar. Aideen Quinn scored another point before St. Cillian's found their form before half time. A close save by goalie Emer Bracken denied St. Cillian's their first goal opportunity. Shortly after however, St. Cillian's found the back of the net. Lucy Lowry went for a long-range effort for a K/K goal that was saved by the St. Cillian's goalie. The K/K full backline of Eva Bracken, Sarah Costello, and Captain Kate Feighery coped brilliantly with the St. Cillian's pressure and cleared many balls. St. Cillian's scored two more points and Emer Bracken was forced to make another great save leaving the scoreline 2-03 to 1-03 at the break.
K/K returned to the pitch more determined with Isabella Gleeson scoring her first goal after an Áine Rigney free. Isabella Gleeson scored her second goal after some great teamwork with Aideen Quinn. St. Cillian's managed to get a point over the bar before Áine Rigney deservedly scored her point. St. Cillian's scored their final point of the game with the K/K forwards, Isabella Gleeson and Aideen Quinn scoring another goal each to complete both their hat tricks. A final point from Isabella Gleeson finished the game and secured the U16A title for K/K with a final scoreline of 6-05 to 1-05.
Captain Kate Feighery collected the cup and Aideen Quinn picked up Player of the Match. Well done to the girls on a brilliant U16 campaign!
Team: Emer Bracken, Eva Bracken, Sarah Costello, Kate Feighery, Sally Talbot, Áine Rigney, Jiani Guinan, Lily Hand, Lucy Lowry, Sarah Grimes, Eabha Mai Tiernay, Isabella Gleeson, Kate Arnold, Aidenn Quinn, Ella Kelly, Gillian Hayden, Aoife Currams, Ciara Doyle, Caitlin Hynes, Brianna Commins, Saoirse Spain, Grace Rigney, Shannyn Healion, Claudia Casey, Elaine Flynn, Eadaoin Fox, Kayleigh McCormack, Lucy Fitzgerald.
Scorers: Aideen Quinn (3-03), Isabella Gleeson (3-01), Áine Rigney (0-01)
Senior B Semi-Final:
Our Senior team were competing in the Senior B Semi-Final against Naomh Brid in Kinnitty on Saturday.
Naomh Brid started the stronger side scoring four points in the first 12 minutes. Debbie Flynn scored three frees before K/K's first real goal chance came. Debbie Flynn put a long ball into corner forward Lauren Leonard who tried for a goal but was blocked by the Naomh Brid backs. Naomh Brid continued to dominate the first half, scoring another three points. Debbie Flynn slotted over another free leaving the K/K girls three points down at the break with a scoreline of 0-04 to 0-07.
Naomh Brid found the back of the net quite quickly in half time leaving the K/K girls with a 6-point hill to climb to reach a Senior B Final. In the final 20 minutes of the game, K/K found their legs with Grace Leonard hitting the back of the net and Debbie Flynn following up with two more points. The K/K backline of Sarah Doherty, Sarah Guinan and Sarah Fitzgerald worked extremely hard to deny Naomh Brid any more scoring opportunities in the second half. Full forward Emma Mulrooney scored her point and Debbie Flynn added two more to her tally. Orla Kilmartin made an intelligent run to collect a pass and stick it to the back of the net. Debbie Flynn and Emma Mulrooney scored another point each to finish the game 2-11 to 1-07.
Our Senior Team will be competing in the Senior B Final in two weeks time!
Team: Carol Mahon, Sarah Doherty, Sarah Guinan, Sarah Fitzgerald, Rachel Guinan, Lorraine Keena, Elizabeth Kilmartin, Jane Lowry, Sinead Moore, Ruth Hennessy, Debbie Flynn, Caoimhe Quinn, Saorah Doyle, Eileen Bracken, Emma Mulrooney, Orla Kilmartin, Ciara Kilmartin, Anna Doherty, Sarah Meacle, Lauren Leonard, Eadaoin Kilmartin, Grace Leonard, Clodagh Murphy, Aideen Quinn, Isabella Gleeson
Scorers: Debbie Flynn (0-09), Grace Leonard (1-00), Orla Kilmartin (1-00), Emma Mulrooney (0-02)
Most Read Stories