Camogs lose to Waterford in All-Ireland Championship opener
June 05, 2023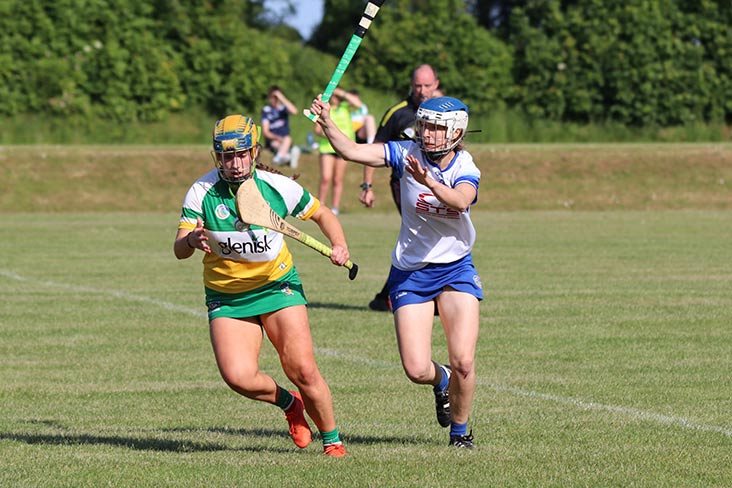 Offaly's Becky Bryant in possession under pressure from Waterford's Aoife Landers (photo by John Gavin)
Glen Dimplex All Ireland Senior Championship
Offaly 1-9 Waterford 2-27
Report by John Gavin
It was a case of deja vu for Offaly on Saturday when for the second time this year they met Waterford in their opening match of a competition given that they met in St Brendan's Park in February in the league when Waterford dished out a heavy defeat to the Offaly girls. These are two counties that are going in opposite directions with Waterford trying to bridge the gap to the top three, while Offaly are in a period of transition. The period of transition has been made all the more difficult recently with the news that their top scorer Mairead Teehan has been hit with a long-term injury and likely to miss the remainder of action this year.
When Justin Heffernan got the game underway the writing was on the wall for Offaly when Annie Fitzgerald slotted the ball past Leah Gallagher before 20 seconds had passed. In the early stages, free from Becky Bryant kept Offaly in touch but in the fifteenth minute a second Waterford goal by Mairead O'Brien highlighted that it was going to be a difficult evening for Offaly. It seemed that there was little that the home team could do to stop the Waterford attack as they picked off their scores comfortably throughout the half to lead 2-14 to 0-5 at half time.
The second half continued in a similar vein with Waterford picking off their scores comfortably despite the efforts of the Offaly girls. Sarah Harding did hit a fine goal but it did little to mask the gap between the two sides as Waterford went on to win comfortably.
Next up for Offaly is a trip to Antrim where again they will meet familiar opposition, having picked up a point in the League against the Saffron girls earlier in the year.
Teams:
Offaly: Leah Gallagher, Louise Mannion, Alana Roddy, Orla Gorman, Sarah Walsh, Orlagh Phelan, Aoife Liffey, Grainne Dolan, Sinead Moore, Becky Bryant, Rachel Brennan, Labhaoise Glynn, Siobhan Flannery, Sarah Harding, Clodagh Leahy
Subs: Ciara Maher for Siobhan Flannery, Lisa Gorman for Labhaoise Glynn, Aisling Feeney for Lisa Gorman, Siobhan Killeen for Sinead Moore.
Waterford: Brianna O'Regan, Vikki Faulkner, Iona Heffernan, Niamh Curran, Keeley Corbett Barry, Clodagh Carroll, Mairead Power, Orla Hickey, Kate Lynch, Mairead O'Brien, Beth Carton, Roisin Kirwan, Abby Flynn, Annie Fitzgerald, Niamh Rockett
Subs: Tara Power for Abby Flynn, Aoife Landers for Niamh Curran, Anne Corcoran for Roisin Kirwan, Bevin Bowdren for Orla Hickey, Lorraine Bray for Kate Lynch
Scorers:
Offaly: Becky Bryant 0-7 (0-6 frees), Sarah Harding 1-1 (1-0 free), Rachel Brennan 0-1
Waterford: Beth Carton 0-11 (0-9 frees), Annie Fitzgerald 1-3, Mairead O'Brien 1-2, Orla Hickey 0-3, Niamh Rockett 0-2, Clodagh Carroll 0-1, Abby Flynn 0-1, Roisin Kirwan 0-1, Ann Corcoran 0-1, Lorraine Bray 0-1
Most Read Stories