Drumcullen Camogie Club Notes
June 27, 2022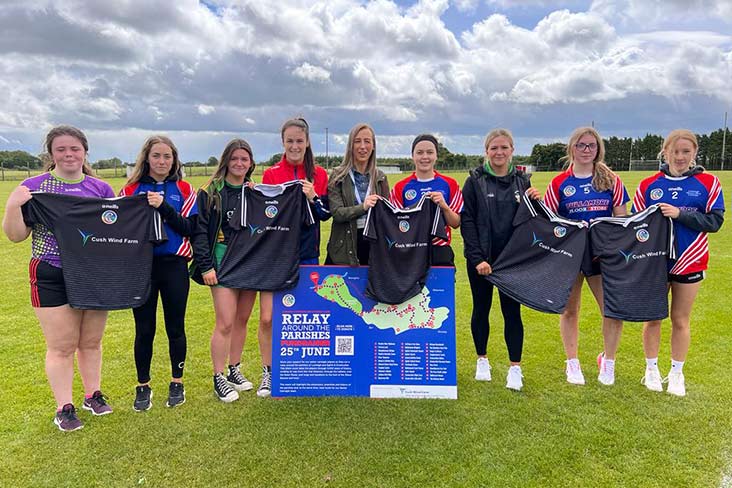 Deirdre Keegan of Cush Wind Farm presenting some of our senior players with tops
Relay around the parishes
A massive well done to all involved in such a successful fundraiser on Saturday. The weather was on our side and the girls enjoyed getting their distances in, being cheered on, and enjoying all the historical sites along the route.
A huge thank you to all who donated to the fundraiser. Your support is greatly appreciated.
Thank you to Brian Pey for his help and advice on the historical locations in our parish.
Thank you to Cush Wind Farm, the official sponsor for both the Lusmagh & Drumcullen Camogie Clubs Relay 'Around the Parishes' fundraiser. This sponsorship was part of their ongoing community outreach programme and they have wished every success to the senior camogie team players as they prepared to run the 65k route. They look forward to continued work with the community, as they progress with their commitment to supply renewable energy to the region and Ireland'.
A thank you to:
All who helped out on the day ensuring the girls were safe along the route
To those who donated spot prizes
Both committees for their assistance
Runners that joined in
Supporters who came out
Refreshments from Joe Troy
Fiona Darcy for graphics
Our manager Leonard Deane for his help and motivation for the girls throughout the day
Most Read Stories